When you live in a city bursting at the seams with restaurant options like New York City, you get the feeling that you're spoiled for choice. You'd be right. From the Michelin starred to world-renowned street carts, there is no reason to settle for any meal that is less than exactly what you're looking for. So when you're looking for an Indian restaurant with a posh interior, serving dishes with captivating presentations and knock-your-socks-off flavors, then aRoqa is just what you need.
The first thing to welcome you at aRoqa, besides the tantalizing aromas of warm spice and tandoor char, is a beautiful, brooding bar. Glowing under the bronzed arched ceiling, there's a sense of exclusive-chic but without the bouncers and bodyguards. 
There is plenty of seating up front, but for a more private table, like if you know you have to spill the T to a friend and you need plenty of space for arm waves and hand gestures, request a table in the back. The restaurant takes a playful spin on classic dishes, so after you peruse the menu you might want some clarification on dishes. 
The staff is unfailingly attentive and one of your greatest resources if you're not sure what to order. If you'd like a head start, I can certainly help you with that.
Taste Plates (small dishes) at aRoqa
Corn Paddu – Even if you got nothing else, get the Corn Paddu. These are corn and rice fritters shaped into perfect crispy orbs. That alone is worth a recommendation but what really elevates this dish is the coconut chutney served alongside. 
There are four fritters per order (perfect for two people to share) and you'll want to take little bites just so you can fit more of the creamy, herbal and addictively salty chutney on every piece. Not a bargain at $16.00 but the pleasure of eating these heavenly morsels is money well spent.
Lasuni Gobi – With cauliflower (gobi) taking the spotlight in American cuisine in recent years, some folks might think this dish is jumping in on the trend, but it's just not so. Cauliflower is the centerpiece of many Indian dishes and Lasuni Gobi makes it easy to see why. 
Crisp battered hunks of cauliflower are coated with a thick sauce that will immediately get your attention as soon as it hits your taste buds. It's garlicky, tangy, a bit sweet, and instantaneously spicy! It's like a tennis match of sensations bouncing between flavor dimensions.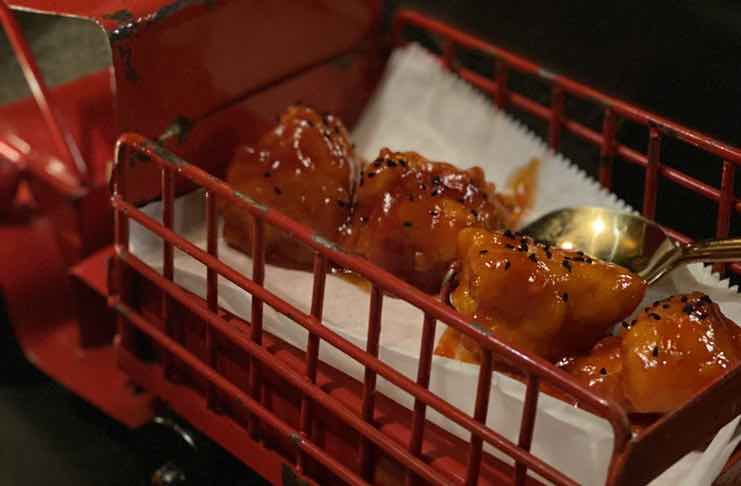 Each order comes with four pieces and is priced the same as the Corn Paddu. Although absolutely delicious, if you had to choose between the two, get the paddu.
Bhatti Murgh Chop – Truly a showstopper, this dish is a complete performance piece. Presented on a playful wagon, the heady aroma of tandoor grilled chicken heavily coated in sumptuous spices is a fragrance eruption. At this moment, you'll be ready to dive in but hold on because the flavor profile is about to jump up a notch.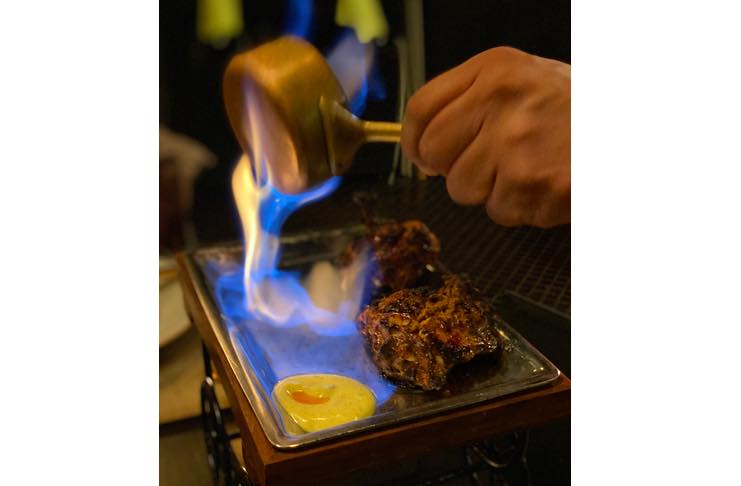 A gorgeous rum flambé is poured over and engulfs both chops in cerulean blue flames. The chicken is juicy and satisfying, to the point that this could easily suffice as a main entree with a side of steaming hot basmati rice. A hearty, meat-centric small plate at $21 is comparable to many establishments and totally worth it.
Shareable Plates
Butternut Squash ke Kofte-Maybe you'll need some respite from all the spice and heat (literally!). The creamy butternut squash ke kofte gives you the perfect taste bud vacation. With a distinct corn flavor, each crispy kofte orb is like a mid-dinner treat. 
The dish as a whole takes on an almost dessert-like essence and the pureéd corn malai sauce displays a vanilla note on the palate. Calling this serving a shared plate is a bit of an overstatement.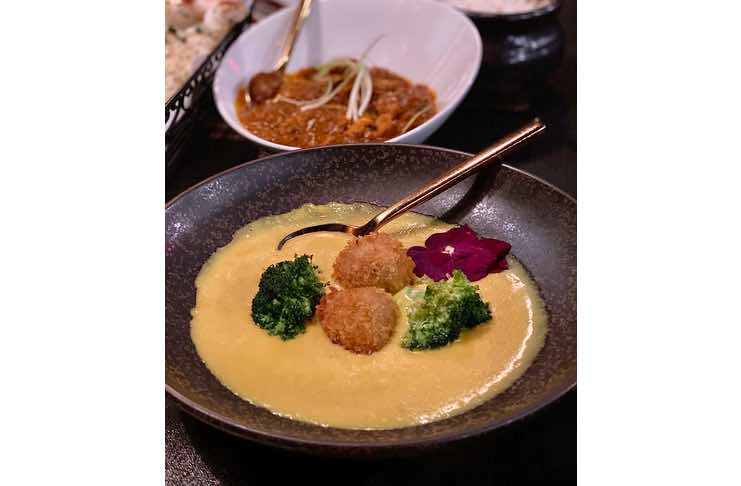 At $23 for a small and completely vegetarian dish with only two crispy koftes, this is a high-priced item. It also isn't something you'd order if you were only getting one dish. Served along with basmati rice, it's well-paired alongside Fenugreek Murgh.
Fenugreek Murgh-A warm and satisfying blend of the nutty, mild, and slightly sweet fenugreek spice lovingly coating juicy morsels of chicken. It's herbal, it's smoky, and it's even more delicious when scooped up with a torn bit of fluffy garlic naan.  
If you're visiting aRoqa with a friend, choose two shareable plates along with an order of naan. This will be just filling enough to still have room for the most gratifying dessert in New York City.
Dessert
Rose Pudding with Gulab Jamun-Utterly sumptuous, this dessert is not to be eaten in a rush. The two gulab jamun are soaked in syrup and wickedly sweet, freshly fried, and enticingly hot. 
Tucked into a pool of cooling, velvety-smooth, rose-flavored milk pudding, you'll need time for each bite, to close your eyes and savor the complimentary and the contrasting events happening in your mouth.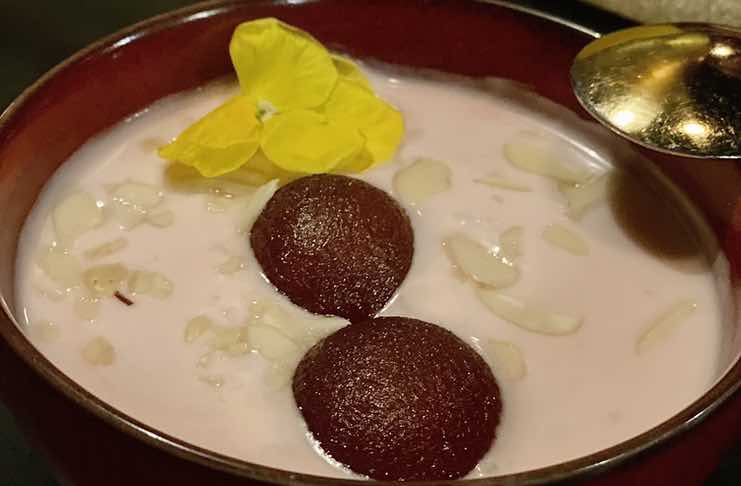 Just a scattering of sliced almonds provides an unexpected but welcome crunch to disrupt the creamy, floral pudding. This dessert is sizable enough to share with a friend, but I'm not sure you'll want to.
The description from aRoqa's website details its namesake ceremony of a "roka" to be a celebratory meal shared with loved ones with excitement and good vibes all around. Walking into the restaurant, you feel like you're celebrating something every time. Worthy of a first date, a ten-year anniversary, or catching up with great friends, you'll find something that suits your palate and occasion. 
Everything from vegetarian dishes to roasted meats, intricate cocktails to mocktails, and irresistibly fragrant desserts. If you're looking for sophisticated Indian cuisine with a friendly, inviting atmosphere, then aRoqa is next on your list.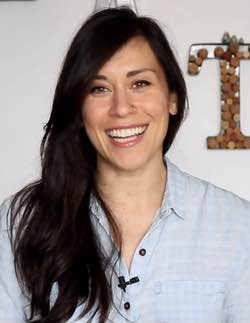 Allie has over a decade of experience as a personal chef, pastry chef and cake decorator. As a first generation Thai-American, she is deeply passionate about exploring cultural cuisines and sharing her own with others. She is a New Jersey native but she has called Brooklyn home for the last 13 years. You can follow her food photography and latest finds on Instagram @thainybites. Check out her delicious recipes and video tutorials on the Thainybites channel on YouTube. You can read more of her food writing on thainybites.com as she finds every possible way to inspire you to be curious about food!