By Ron Rossi
There comes a time when we want to try something different. We want to go to a new place. Someplace we had not been before. A place where there might be fish and a raw fish bar, or steaks, or pasta, a pizza, or even a hamburger. It needs to be special and unique. Something with taste and flavor. And it has to be closer to you. It cannot be in another state or overseas. This is different but here.
This we found when we stepped inside PRIME 1024 here in Roslyn, New York. It was special.
From the moment we stepped inside we knew it was different. It is a well-designed space to enter. Everyone had their own table within their own glass-designed space. In today's environment, it did protect each other from the way we live.  But it also created an area where you can see each other but you had your own private area to be in so you can speak with friends or family and not overhear the group next to you. It was privacy but in the open.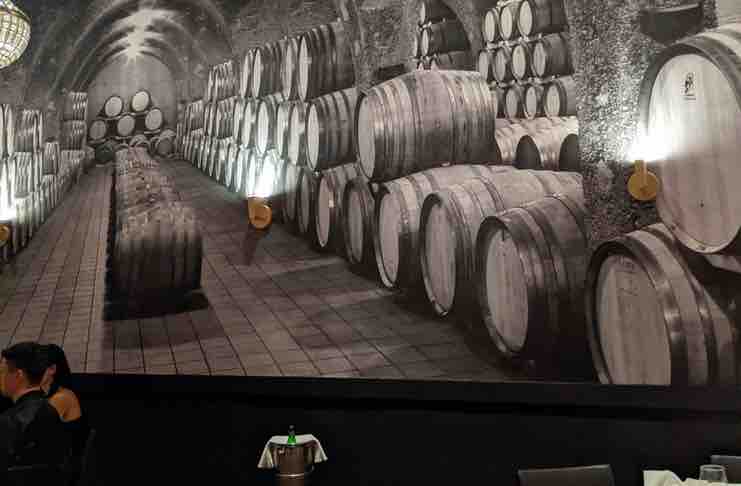 We meet with Leo, who is the Maitre D'. He is there to assist you as you are handed your menus and the team arrives to help. He gives us some information and introduces us to the head waiter who will help us during our meal. We learn that Prime 1024 has been here for only 3 years. It started in 2018 and has been popular ever since.
It has the same Chef and staff who take care of everything, from the concept to the creation. It is all fresh, homemade, and uses the best of everything for what they can make today. Whether it is fresh fish, meat, vegetables it is here. The same for bread and pastries. It is all made in this location by a group of individuals who want to make the best. 
A WAY TO BEGIN
With the menu in hand, Edison reviews what the specials are for the day. It sounds interesting. He also hands us the cocktail and wine list that is located on the laptop for easy review. Having not had Chianti in a long time we decided to go for this. They brought over two individual carafes for us as they filled our glass. It was fresh and flavored and very typical of what we would expect. That helped when we had to look and order our meal.
That took some time but then we did decide. We made our selection and then waited to begin. The team brought us some homemade fresh Italian bread with a side dip of Ricotta Cheese and olive oil. This is what you would expect in a typical Italian home. It was fresh, creamy, and seasoned. The bread was warm and easy to use with the dip. It is a good way to start while you wait for the appetizers.
This came soon with an order of Fresh Oysters that were out of the sea. They were cut in the shell and waiting on the ice. A small twist of lemon and each bite was a good bite. It actually reminds us of eating at Lundy's in Brooklyn years ago, which was famous for fresh oysters. 
We also had an order of Calamari. Lightly fried rings from local squid. It was fresh, slightly bread and then fried. The pieces were large with a light breading that was tasteful. It did not need anything else. There was a dip of sauce and another dip of ricotta cheese. Both had seasoning, flavor, and some lemon aioli you could add to each bite you would take. This alone could have been a meal itself. Once more it was going back in memory to what we would have in Brooklyn. 
As we finished this the next item was a Beet Salad. But this was not any beet salad. This was a combination of red and golden beets topped with goat cheese and pistachios placed over escarole and seasoned with lemon vinaigrette. It was just enough. Nothing heavy to remove the taste or flavor. It was light, fresh, and something to enjoy with each bite. It had just enough spice to make it rich and a meal itself. 
THE MAIN COURSE WAS A GOOD COMBINATION OF TASTES
When it comes to the main entree everyone has a different choice to make. In this case, it became a good mix of what is known of here at Prime 1024. There was fish, lamb, beef and some pasta. Each order was a meal unto itself. But when people are together some like to mix and share. It is a way to learn, taste and enjoy together.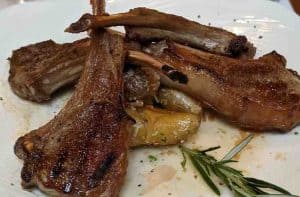 First up were the Lamb Chops. You received four lamb chops that were sliced and cooked on the grill. They were topped with some olive oil and a little spice and nothing else. The cooked medium they were soft, fresh, moist, and pink inside. You could slice them and take a bite to enjoy by themselves or with a side order. In this case, it was finger potatoes topped with parmesan cheese. Lightly coated it was a good compliment to the lamb.
Next, we had Tuna. This was more Asian style as it was thin and breaded with sesame and some soy. That was it. It was then pan-seared fast so it was raw but warm inside. Very typical when eating back in Japan. It was soft and moist and each bite was perfect. On the side was fresh spinach that was also sauteed and placed in the pan quickly to make it soft and warm. A little seasoning was all you needed to enjoy a meal that was light and tasty.
Naturally, we had to have a traditional Hamburger plate. This was a large beef burger that was freshly made. It had salt and pepper and was topped with cheddar cheese that was melted as it was all cooked on the grill. This came with caramelized onions, shiitake mushrooms, and truffle aioli to make it unique. It was then placed on a hamburger bun. Alongside was homemade french fries and a pickle. A typical hamburger but with a better taste with each bite. On several nearby tables, we saw the burger would be split between two guests to share. It was that huge.
Finally, they brought us an order of Pasta with Ragu. This was all made that morning. The fettuccine was homemade with the best taste. It was cooked and al dente. It was large and moist. It could have been a meal itself. But then it was mixed with the tomato sauce that had garlic, spice, and seasoning. It included a combination of beef and veal that was grounded and mixed in the sauce which was then mixed with the pasta. A true ragu. It was also topped with some ricotta cheese for a little flavor very typical in Italy. We have not had this for some time, so to have it here made it taste like we would at home.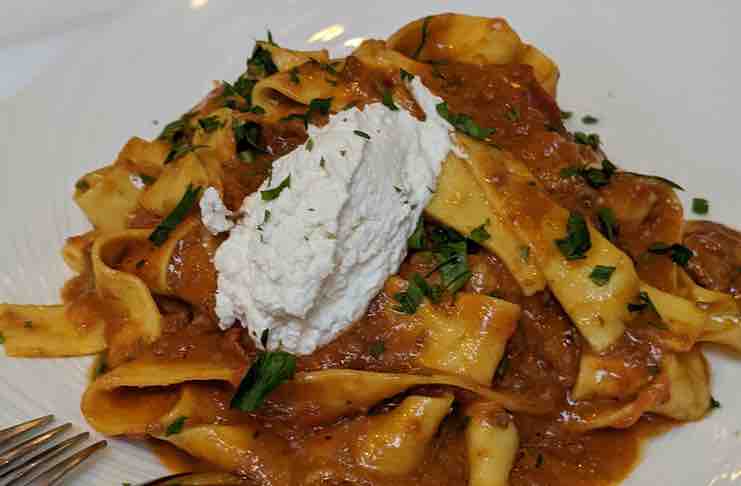 A DESSERT TO ENJOY MADE SPECIAL
Once this was over it was time for dessert. Or so you would think. The meals and main course were exceptional, but dessert was something to enjoy. There is an actual Pastry Chef at Prime 1024 who is able to make desserts that everyone can experience and select to end the meal. 
In our selection, we started with Tiramisu. This was homemade as well. It was fresh and moist. It was not sweet but flavored. It was not cold but at room temperature. It was smooth and light. It was made of mascarpone cheese, ladyfinger pastries and topped with chocolate crumbs. It even had a flavoring with espresso. It was different. And rich. We shared this to enjoy together.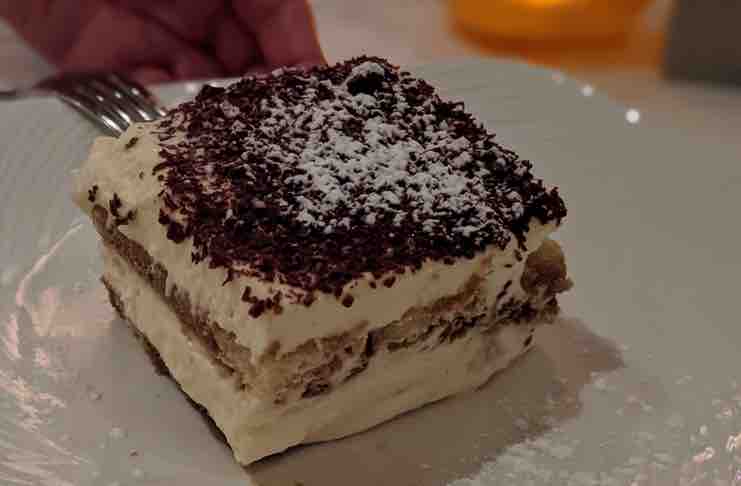 Next, we had the dessert that was a true winner. This was the Lava Cake. It is pastry and chocolate. When you reach into it the chocolate cream comes out and is warm and tasty. It is excellent.  It also comes with fresh vanilla ice cream and a side of whipped cream. All freshly made. Nothing too sweet. Just something to try and enjoy. It is very typical of a dessert from Europe that is never sweet, just rich and flavored to have.
A Cappuccino and a Darjeeling Tea were the perfect way to end the evening.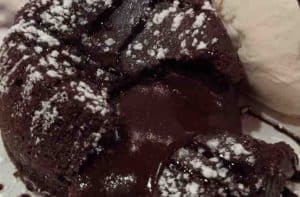 A SPECIAL PLACE FOR A MEAL TO ENJOY
Prime 1024 has a great deal to offer you when you are here. It is as if you are their guest. 
Edison and his team were always nearby to help. His recommendations made it easier to select so many items to choose from. Leo will help them, and you, if you have a question.

With a raw fish bar to start, new salads to select, the meat, the pasta and more there is always something there for you. There is even something to enjoy such as wine, or cocktails, fine Ports, and even an assortment of beverages and teas, Prime 1024 does make it all available.
The place offers everything. The price is not inexpensive. The rate for the quality of the food is what you can expect for what you can select here. You do get what you pay for. It is typical whether you have a small dinner or a special event. 
Prime 1024. It is worth the trip to have a meal you will want now. As they say in Italian: MANGIA…ENJOY!
………………………………..
LOCATION:
PRIME 1024
1024 Northern Blvd.
Roslyn, New York 11576
Phone: 516-621-1024
Want to read more of our reviews? Check out our review of PJ Bernstein.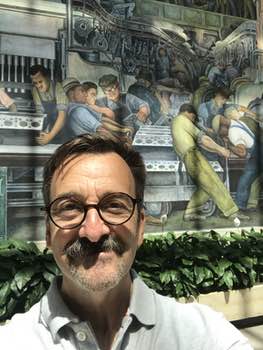 "The Jaded Traveler". Ron Rossi was born and raised in New York. A globalist at heart, Ron is a marketing director by trade, and has lived and worked around the world including Asia, Europe, Africa, and South America. Food is one of the best ways to learn about a country, a people and a culture. So, Ron is always looking for the best in mid-range to budget and street food. He is always on the hunt for a good meal anyone can afford. It is the food of the average citizen that excites him. And with having visited close to 100 countries on 6 continents so far, there have been some pretty good meals.