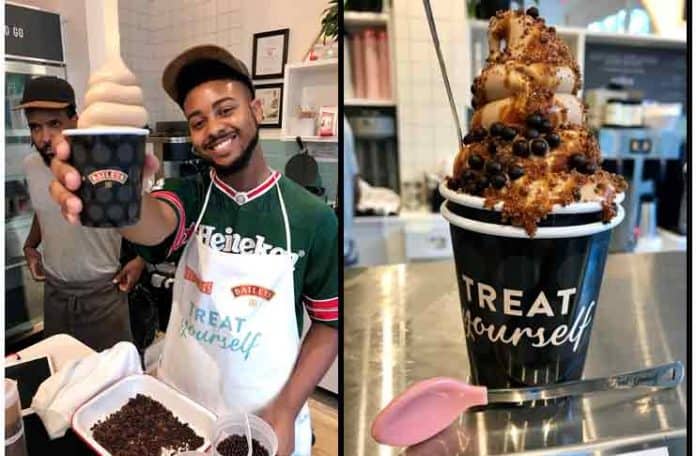 TREAT YOURSELF…not Trick !!!
On Friday, October 12th I was lucky enough to attend the special invite to the National Treat Yourself Day.
A treat indeed.
Baileys Irish Cream and ICE CREAM !!
On the most charming corner of 55 Houston on a brisk Fall afternoon. Was it charming because you walk into the cutest Ice Cream shop greeted by the friendliest staff ever and how can you not be happy when you know Ice Cream is within a short reach. Or is it the ice Cream…or promises of Baileys Irish Cream.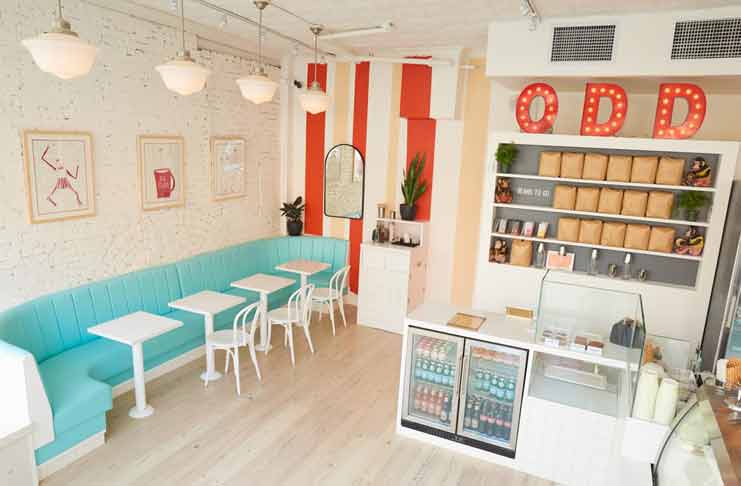 The OddFellows staff were all smiles as they scooped up the flavor of the day with Baileys to an egger crowd of press, photographers and bloggers.
Reminiscent of an ice Cream social the audience was excited cell phones were out yet no one seemed to be engaged with technology other than to take pictures and post about the event. Hands were full with the Ice Cream at hand.
Sitting in the corner was a calligrapher creating hand personalized mugs. "Treat Yourself" featured on one side and individual names being written on the other in pink.
The Name of the lovely Calligrapher. Sam Teich, www.SamTeich.com
The ice cream station was full of OddFellows staff making a baileys packed sundae.
The OddFellows ice cream was rich and smooth. Not too sweet which balanced the baileys well. As I do love a good Irish Coffee and love to make black coffee a little Irish this was quite a Baileys punch.
The Baileys Everyday Sundae launched at Coffee & Cream by OddFellows (55 E. Houston Street) on Saturday, October 13th in honor of National Treat Yourself Day, and is available for purchase in-store throughout the month of November.
Served with Treat Yourself engraved pink baby spoons. Brings out the kid in us all.
This is the best grownup Sundae Treat that can only happen in the East Village.
The intimate setting is perfect for any day.
Corner tables and benches all around gives you a chance to share your experiences with other's. Conversations and yummy noises with great big smiles exchanged by strangers rather than faces buried on their phones.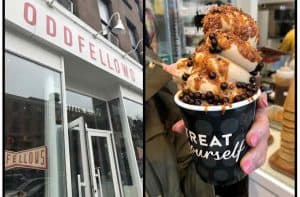 Thanks goes out to The host of the Baileys Original Irish Cream Meet and Treat at Coffee & Cream by OddFellows was Jessica Hirsch of popular food Instagram, @CheatDayEats
The OddFellows Ice Cream Co. is a Brooklyn-based, family-owned and operated small business founded by husband-and-wife team Mohan and Holiday Kumar and Chef Sam Mason. They opened their flagship location in June 2013 in Williamsburg, Brooklyn. Currently, OddFellows has 4 storefronts: OddFellows Ice Cream Co. The Parlor in Williamsburg, OddFellows Ice Cream Co. The Sandwich Shop in the East Village, Coffee & Cream by OddFellows in Nolita, and the newest location, OddFellows in Dumbo, Brooklyn. They also have a fifth location coming soon in Bushwick.
The OddFellows Says: "Every scoop of our ice cream is made from scratch in our Williamsburg kitchen. We strive to create the highest quality and freshest ice cream available, pasteurizing our ice cream base in-house to concoct the most distinctive and scrumptious flavors ranging from inventive renditions of the classics to the delectably unconventional. Our milk, eggs, and cream are sourced from local farms and, whenever possible, we use all-natural ingredients."
Baileys Original Irish Cream Liqueur and coffee is such a classic combination that people all over the world have enjoyed for years. With the opening of the new Coffee & Cream by OddFellows in New York, it was the perfect opportunity to pair their existing espresso soft serve with a Baileys Original Irish Cream Liqueur flavor for a decadent new offering. Baileys Irish Cream Liqueur is meant to be enjoyed during a wide variety of occasions, and now consumers can indulge in an ice cream sundae inspired by Baileys Irish Coffee with The Baileys Everyday Sundae  at Coffee & Cream by OddFellows.
The Baileys Everyday Sundae features OddFellows signature espresso soft serve swirled with the essence of Baileys Original Irish Cream Liqueur and drizzled with Baileys-infused caramel and topped with coffee soil and chocolate wafer pearls.
Other reasons to go to The OddFellows ? The Flavors !!!
Flavors as of October 29th:
Vanilla Bean
Chocolate Chunk
Strawberry Jam
Matcha Passionfruit
Sprinkles
Buttermilk Apple
Olive Oil & Strawberry
Yuzu-Pineapple Green Peppercorn *sorbet*
About the Author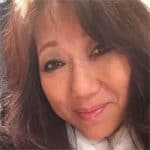 Faith Rein has written for 2Girlsfromabar@blogspot.com.  Youtube channel – faith.rein, love food love faith. Living and loving in NYC, food has been a passion of mine. East Coast to West my goal is to explore and learn with the contribution of other like-minded foodies. You can find me @: Faith.rein/facebook (always looking to add friends) / faith rein@twitter / faith.rein@instagram / faith.rein@gmail.com
Living and loving in NYC, food has been a passion of hers. East Coast to West, Faith's goal is to explore and learn with the contribution of other like-minded foodies. Faith Rein has written for 2Girlsfromabar@blogspot.com. Youtube channel – faith.rein, love food love faith. You can find her @: Faith.rein/facebook (always looking to add friends) / faith rein@twitter / faith.rein@instagram / faith.rein@gmail.com