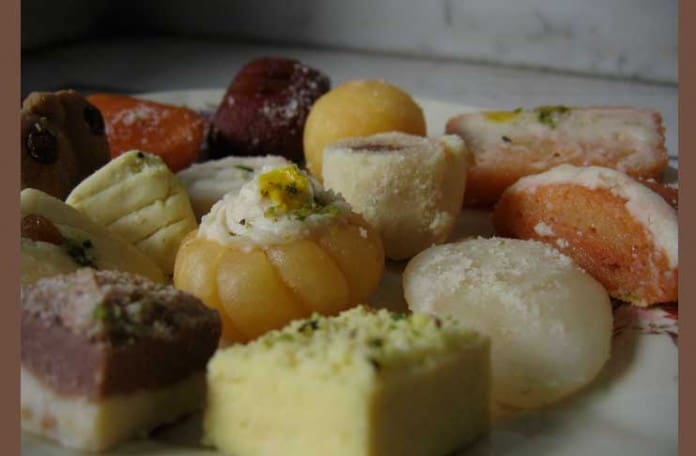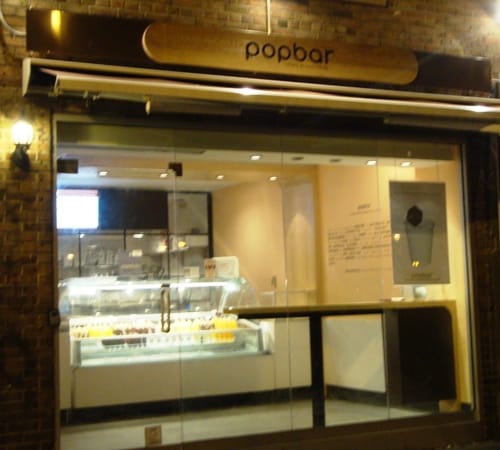 Popbar, the West Village store with wonderful gelato & sorbetto on a stick, recently invited us to taste their new mini-pops.  New York Street Food was one of the first places to write about Popbar right after it opened last May (well, it is in our neighborhood), so when Popbar had a new product offering , they asked us to stop by for a tasting.
We know it's a tough job, but somebody has to do it!
Popbar was originally founded in Italy, and the store at 5 Carmine St is their 1st location in the US.  I was told they are looking to expand their NYC presence.
They offer 10 different flavors of gelato (made with cream), 9 flavors of sorbetto (just fruit, water and fructose) and a few flavors of frozen yogurt, too. Everything is natural with no preservatives or artificial flavors.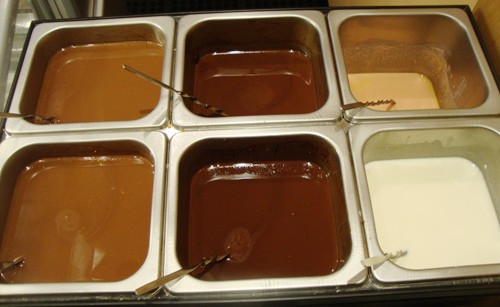 Once you pick a flavor, there are 4 dips to choose from (white, milk or dark chocolate and orange flavor) and 6 toppings (almond, coconut, hazelnut, pistachio, granola and crushed biscotti).  Unlimited dippings are $.50, as are unlimited toppings.
Popbar has specially-customized machines that are used to make these tasty desserts on a stick.  And now they've created mini-pops for corporate events, birthday parties, bar/bat mitzvahs, weddings, showers, and other social gatherings.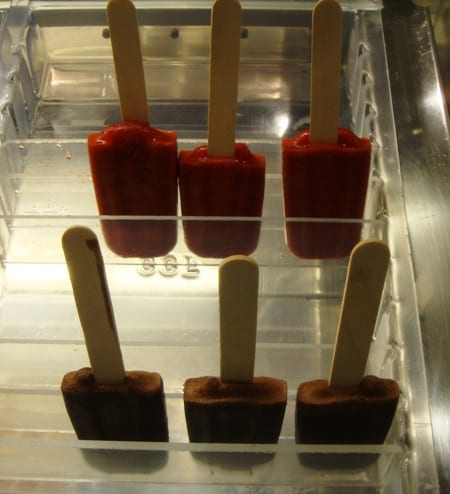 When we got to the store, Julio brought out the mini pops for us to try and told us some of the facts we've related elsewhere in this article.  The mini pops were about half the size of a regular popbar, and there were 2 flavors for us to try – strawberry and gianduia (chocolate & hazelnut).  Being chocolate lovers, first up was gianduia.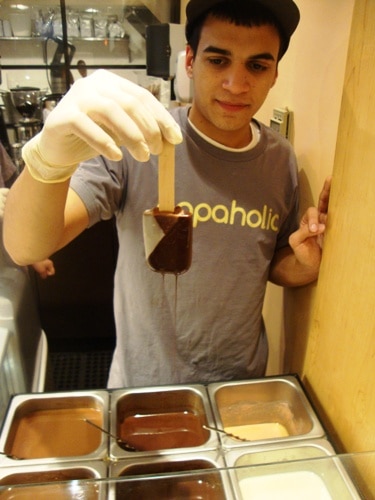 To get some variety, Julio dipped half in white chocolate and half in dark chocolate.  I asked for pistachio nuts as the topping.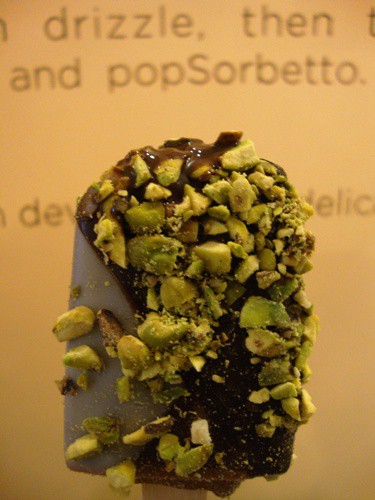 All I can say is – -Wow!  It was the middle of winter, but I didn't care.  This was awesome!  I've never been much of a hazelnut fan, but gianduia only had a slight hazelnut flavor.  It was mainly an intense chocolate flavor, which went great with pistachio nuts and the white/dark chocolate dip mix.  Since it was a mini pop, it didn't take forever to finish, and I tried the strawberry next.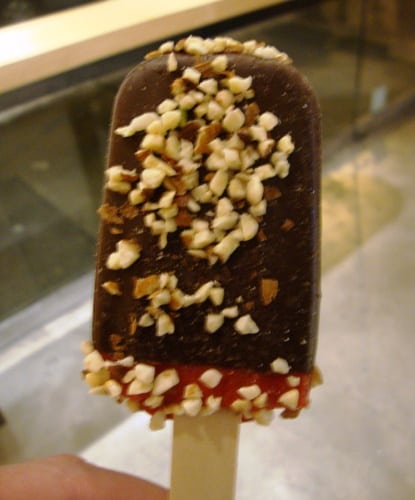 With strawberry, I asked for dark chocolate and almonds, which was a pretty good choice.  The strawberry had a vibrant taste, and you could tell it was just fruit, water and a little fructose.  No artificial flavors or any other chemicals.  Delicious!
My wife was a little disappointed there were only 2 flavors of mini pops to try because she wanted a coffee flavored pop.  Well, they were gracious hosts and gave her a full-sized coffee flavored gelato instead of a mini pop, which she got with almonds and dark chocolate.  She said the best way to describe it was espresso on a stick, which made her very happy…and if she's happy, I'm happy!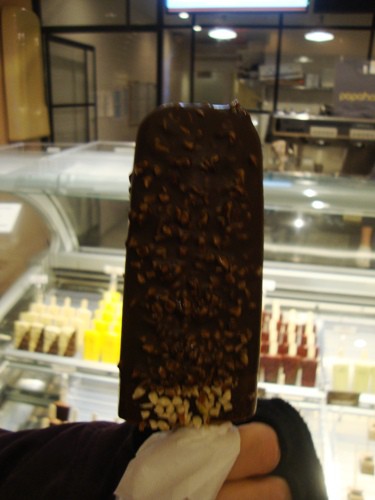 While they don't serve mini pops at the store, they are perfect to order for office parties, birthday parties and other social gatherings.  The mini pops are packed into a cooler, and Julio said that keeps them frozen for up to 3 hours before they will need a freezer.  Chances are they will be eaten before that, but if you need to travel a bit, the cooler will hold them for up to 3 hours.
The minimum order is 25 for $60, and the price drops as the amount ordered increases.  You can get more information on Popbar at their website here, and if you have any questions on mini pops, email orders@pop-bar.com.
New York Street Food would like to thank Popbar for inviting us to taste their mini pops (and regular pops too).  We tried Popbar right after they opened, but that was last May, and I'd forgotten just how good their pops are.