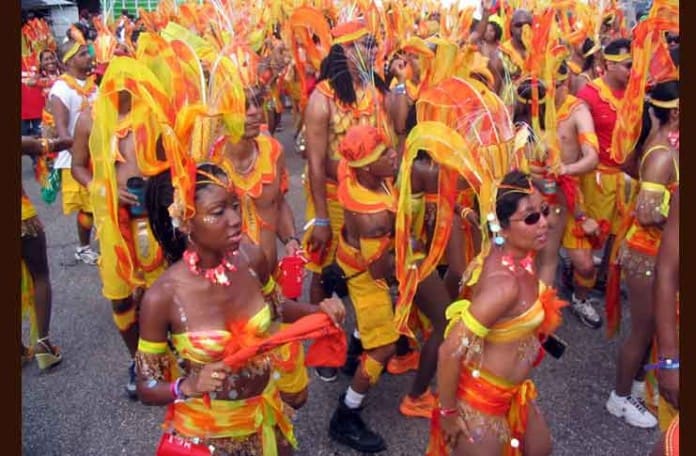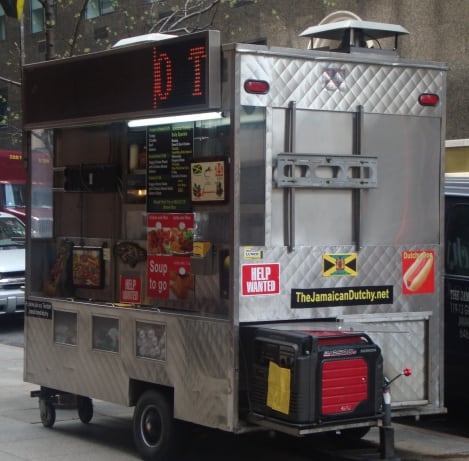 I've been meaning to try the peppered steak from the Jamaican Dutchy for a while now. It's their Wednesday special, but I keep forgetting to go there on Wednesdays. The one time I remembered about a month ago, they were out of peppered steak by the time I got there, and it was only a little after 1 o'clock.
I didn't want to make that mistake again, so I headed out a little earlier than usual for Today's Lunch, peppered steak (regular for $9 or large for $11) from Jamaican Dutchy, on 51st St just east of 7th Ave.
Based on my past experiences with the Jamaican Dutchy, I knew the regular size would be plenty of food for lunch. Walking back to the office with lunch, my suspicions were confirmed by the weight of the package.
Opening up the container, the smell was pretty fragrant. Instead of chunks of beef, it was sliced into strips and cooked with green peppers, onions and a few lima beans.
The beef was not fatty at all, in fact it was pretty lean – and there was a huge amount of it. I can't imagine what a large portion would look like.
The whole shebang had obviously been stewed for several hours, which tenderized the meat and made the peppers and onions really soft and tasty.

Contrary to its name, the sauce was not peppery at all. The name of the dish refers to all the green bell peppers in there. It's not easy to describe the sauce, other than to say it was a delicious brown sauce, but it wasn't thick like gravy. It seems to be a beef broth base, and it was a little tangy and a little sweet.
In addition to peppered beef, there was a huge mound of rice & beans and a cabbage salad on the side.
Even though there was a lot of it, the rice & beans were actually fairly light for this notoriously heavy dish. It was mainly rice with some beans, and I could detect allspice and nutmeg in the rice. Tasty stuff!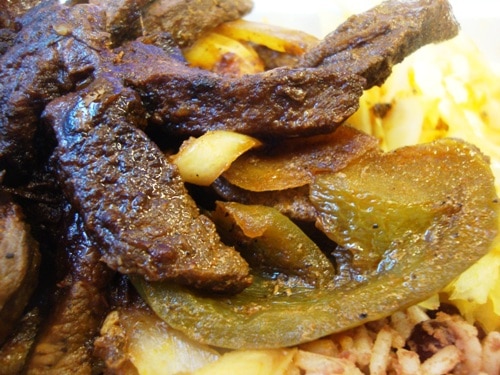 Today's Lunch was as good as I hoped it would be. The beef, peppers and onions were good, as was the rice, and the portion was a standard Jamaican Dutchy portion – meaning very big! I heartily recommend the peppered steak at Jamaican Dutchy, who was a 2009 Vendy Award finalist.
Just remember the portion sizes.  If I got a large, I probably wouldn't have to eat for a week!
Website – TheJamaicanDutchy.net