It's been a long time since we've been to Num Pang, one of our Honorary Street Food vendors. They started with a small space on East 12th St, which has seating on stools upstairs for about 10 people. With Num Pang selling street food in a small space, that makes them an Honorary Street Food vendor.
Now, Num Pang has 3 locations, one in Midtown East and one in NoMad. The original spot on East 12th St is the smallest by far. Should they still be considered an Honorary Street Food vendor with 3 locations? What do you think? Let us know in the comments. Here's their menu for reference.
The food is still the same. As the saying goes: "If it ain't broke, don't fix it"! There are a few new specials we haven't tried before. This time we got the salmon with leeks sandwich, which came to $9.25 after tax.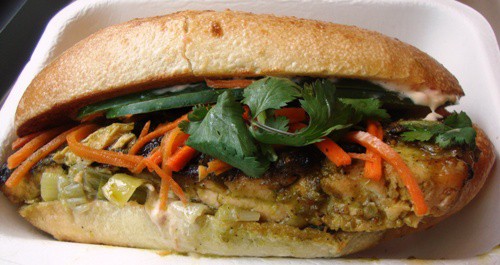 All sandwiches at Num Pang come with pickled carrots, thin slices of cucumber, fresh cilantro and chili mayo…and there are no substitutions or special orders allowed. That's what enables Num Pang to get through all those customers during the lunch rush.
Salmon with leeks was a very nice choice. At first we were a little taken aback because the salmon still had on it's skin, but if that's the way they serve it, that's the way we'll eat it.
Lots of places remove the salmon skin, but in this case it added to the overall flavor of the sandwich, similar to what crispy skin does for chicken.
Salmon is a fairly mild fish, so leeks were the perfect accompaniment, adding a little zing, but not overpowering the fish like onions would have.
The chili mayo added a little more spiciness, and basil-infused olive oil added some depth to the salmon.
The roll was firm, but still soft enough that the salmon and leeks didn't get squeezed out the sides with each bite. A definite plus.
Num Pang is still one of our favorite sandwich places in the city…but are they a street food vendor?