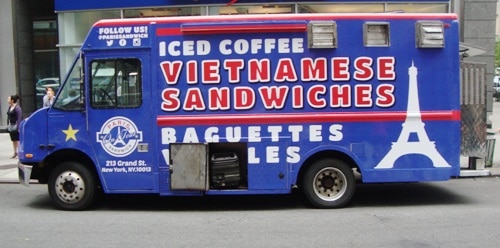 Feel like a Beef Banh Mi Sandwich? When we travel to L.A., there are at least 3 food trucks serving banh mi, the Vietnamese sandwiches that we love. It's about time that NYC finally has a banh mi truck of its own!
We enjoyed our First Look at the Paris Sandwich Truck a couple of weeks ago, and went back for a 2nd visit a few days ago. There are about 6 different banh mi sandwiches to choose from (click through to see the menu), and they have a couple of rice bowls for the bread-averse.
We went for the curry Beef Banh Mi sandwich, which cost $8, as all the banh mi sandwiches cost.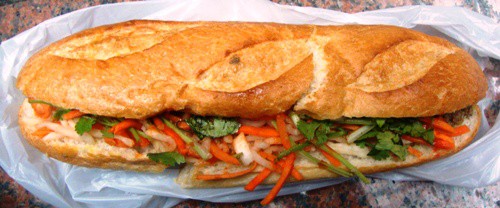 One of the reasons we love banh mi is because of the pickled carrots and daikon, which give the sandwich a cool, vinegary snap. Fresh sprigs of cilantro are another important part of the taste.
A lot of Western cooking uses only the cilantro leaves, but Eastern cooking tends to use the entire cilantro stem and leaves. This is something we learned in a cooking class we took last year on Indian street food.
The cool, sharp veggies are a nice contrast with the curry beef, which comes in the form of ground beef in this sandwich.
The ground beef had a nice curry flavor, but it wasn't overpowering. The taste was tempered by coconut milk, which is great when mixed with a curry sauce.
There was also an underlying intensity that we believe came from fish sauce, a staple of Vietnamese and Thai cooking used to give dishes added depth or "umami".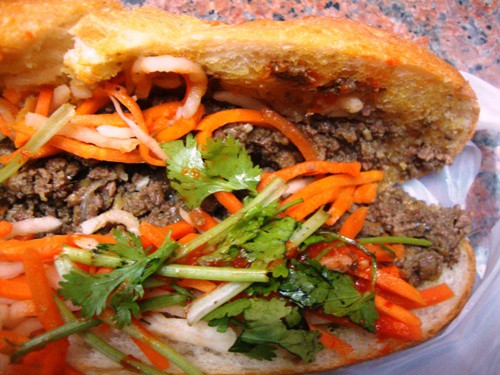 The last component to talk about is the baguette. This one was generally nice and soft, but there was a little crunchiness on the crust that provided some texture. Without the crunchiness of the crust, the bread would have been too wimpy.
As a final touch, the baguette was buttered before anything was put onto it. That added even more richness to the taste of this nice Beef Banh Mi sandwich.
You can find the Paris Sandwich Truck on Twitter here or on our Mobile Munchies twitter feed.  Their website is here,
We're glad to have the Paris Sandwich Truck on the NYC streets, and we look forward to trying even more of the menu.