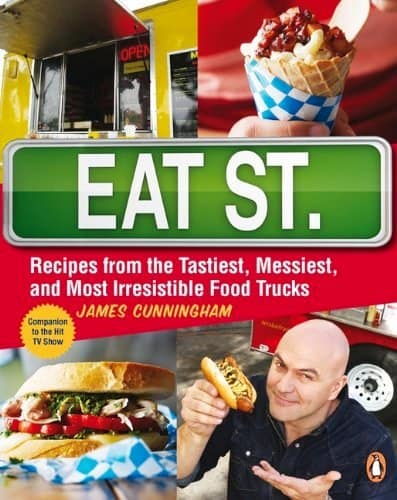 This was a tough contest, but Scott F. came closest with the most correct answers of the Eat St. TV episodes we have been on.
We have been on Eat St. TV episodes featuring the Big Gay Ice Cream Truck, Comme Ci, Comme Ca and Gorilla Cheese NYC.
There are also two episodes in the can for next season, one with Okadaman and one with Marky Ramone's Cruisin' Kitchen. Marky Ramone even came down to the Hudson Square Food Truck Lot for the filming of that episode.
The only one Scott got wrong was Bistro Truck, but we did actually film an episode with Bistro Truck. Eat St told us there were technical problems with the Bistro Truck episode, and it never aired.
The one episode everyone missed was Gorilla Cheese NYC. We had a great time with James, the owner, filming that episode.
James Cunningham from Eat St. TV is going to be on CBS This Morning on Monday (4/1) to promote the book, and asked James Klayman from Gorilla Cheese to be on the show with him. That should be a fun segment to watch.
There was only one contest winner, Scott F, but you can buy a copy of the Eat St Recipe Book here.