Feel like biting Spicy Shrimp Banh Mi sandwich? As you can tell, we've been working our way down the menu of the Paris Sandwich Truck.
For our First Look, we had a fried fish banh mi. On our 2nd visit, it was a curry beef baguette.
This time we wanted to try the Spicy Shrimp Banh Mi baguette, which cost $8. All the banh mi sandwiches cost $8, but now they come in these fancy Paris Sandwich wrappers. Ooh la la!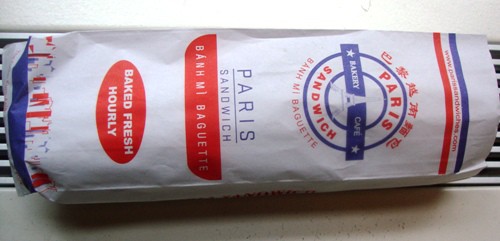 Taking the sandwich out of the wrapper, it was still warm on the bottom. When we bit into it, the warm shrimp contrasted nicely with the cool, crisp veggies – pickled carrots, cucumbers and daikon. There was also several stalks of fresh cilantro in the banh mi.
According to the menu, the Spicy Shrimp Banh Mi was sauteed in lemongrass with caramelized onions, but we didn't see any evidence of caramelized onions. There wasn't much of a lemongrass taste either. What we did taste was fish sauce, which is popular in Southeast Asian cuisine.
There was a decent amount of shrimp on the roll, but it was overcooked. Cooked shrimp need to have some life to them, but these were too soft, and a few were even a little mushy.
We didn't really detect any spiciness either.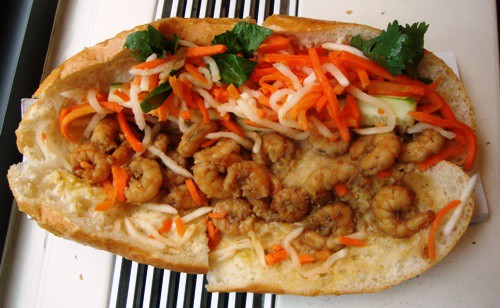 The baguette itself was full size (10″-12″) and soft, but with a little crunchiness. We know of other street vendors who get their bread from Paris Sandwich's storefront in Chinatown, so we know the bread is good.
You can find the Paris Sandwich Truck on twitter here or on our Mobile Munchies twitter feed.  Their website is here,
So far we have tried 3 items on the menu, and our favorite was the canh cua (fried) fish. We always love fried fish, but that tamarind sauce put it over the top!
Just the veggie and chicken baguettes to go.