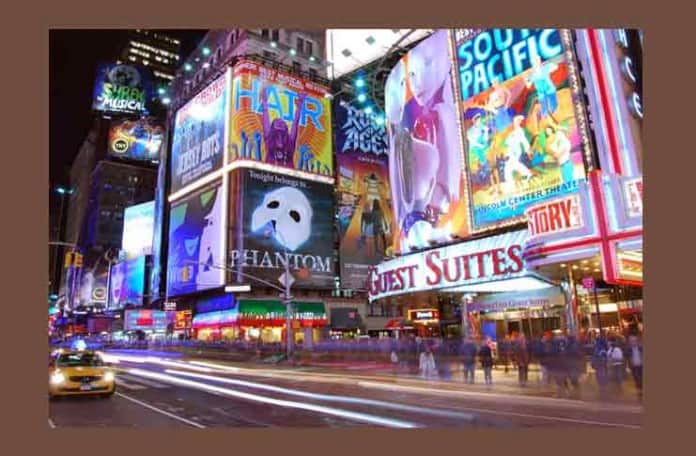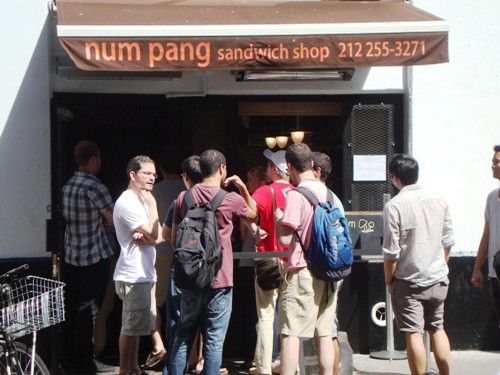 I wasn't sure what to do for lunch but had to be near Union Square, so I decided to stop by Num Pang Sandwich Shop, an old favorite on East 12th St, just west of University Place.  It was pretty busy, with a line of about 7-8 people, but that's what happens when word gets out about how good the food is.
To my surprise, there was a new special and it sounded pretty good.  Today's Lunch is a grilled portobello sandwich with concord grape vinaigrette ($8.40 after tax).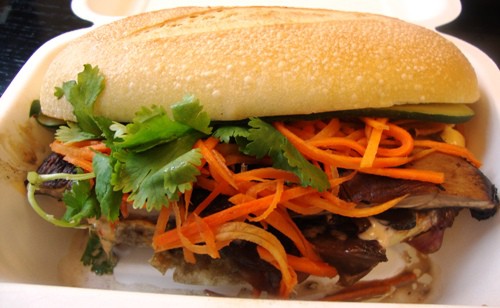 I've talked a lot about the fixings on Num Pang's sandwiches so here's the Cliff Notes version – shredded carrots, fresh cilantro and chili mayo on a toasted bun.
The portobello mushroom was thick and meaty, but not a lot of the grilled flavor came through.  There was a lot of 'shroom on this sandwich, and the 'shroom taste came through, but not a lot of the grilled flavor.  It was still good, but I expected it to taste more grilled.
Oddly enough, the same thing can be said of the concord grape vinaigrette.  Some could be detected, but it was not apparent without looking for it.  When I hit the bottom of the sandwich, the bun was somewhat soggy on the edges, and the taste of grape vinaigrette on the bun was more obvious than it was on the portobello mushroom.
Today's Lunch gets an 8.5 out of 10.  This was still a delicious sandwich, but it was messier than past sandwiches I've had at Num Pang, and the price of sandwiches there is a little on the high side.  There was plenty of mushroom flavor, and if you're a vegetarian, you could probably add half a point to my score – but I'm a carnivore at heart.