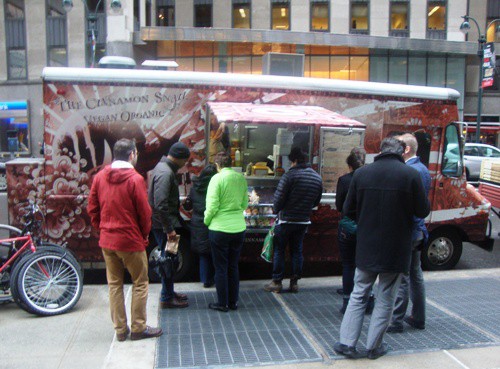 Ever had Grilled Tofu Banh Mi? We had to take lunch early recently, which made it a good day to stop by the Cinnamon Snail. At 12:10 there were only a few people by the truck. By 12:30, the line is usually at least 20 people long. Don't even ask how long the line is at 1pm.
This week's special was Red Curry Tofu Banh Mi, which cost $9.
While we don't usually have dessert with lunch, an exception is often made at the Cinnamon Snail, who have fantastic baked goods. This day they had their award-winning Maker's Mark Vanilla Creme Brulee Donuts for $3.
While $9 is on the high side for grilled tofu, this was a big, overstuffed baguette. There were half a dozen large, thick grilled squares of tofu.
The grill marks were readily apparent once we opened the sandwich, adding that flame-grilled flavor to the tofu.
There were a lot of flavors kicking around this Grilled Tofu Banh Mi. The pickled red onions were tangy and acidic, the red curry sauce was spicy, and even some bitterness from the arugula came through.
One problem we had was the difficulty of eating this sandwich neatly. It would have been easier if the baguette was cut in half, but even that probably wouldn't have kept it from becoming the big, sloppy mess we ended up with.
The tofu, onions and arugula kept falling out, but it was a delicious sloppy mess nonetheless.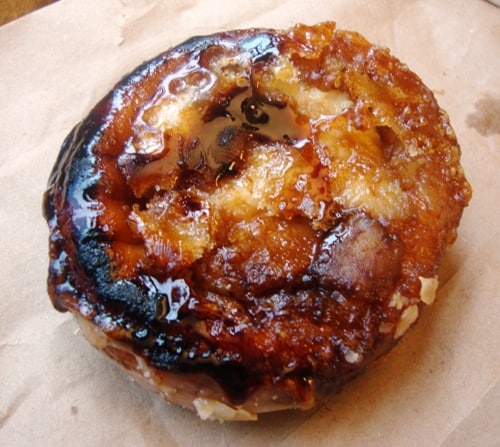 Speaking of a delicious, sloppy mess, the Maker's Mark bourbon vanilla creme brulee donut was sick! If you recall, this dessert won the the Maker's Mark Recipe Challenge at the 2011 Vendy Awards.
There was plenty of burnt, crystallized sugar on top, a Maker's Mark bourbon glaze, and vanilla creme inside. This was not what you would call a light dessert, but it was awesome!
You can find the Cinnamon Snail and its Grilled Tofu Banh Mi on twitter here or on our Mobile Munchies twitter feed.
If you haven't already, you should definitely check out the Cinnamon Snail. But take our advice, and get there early!