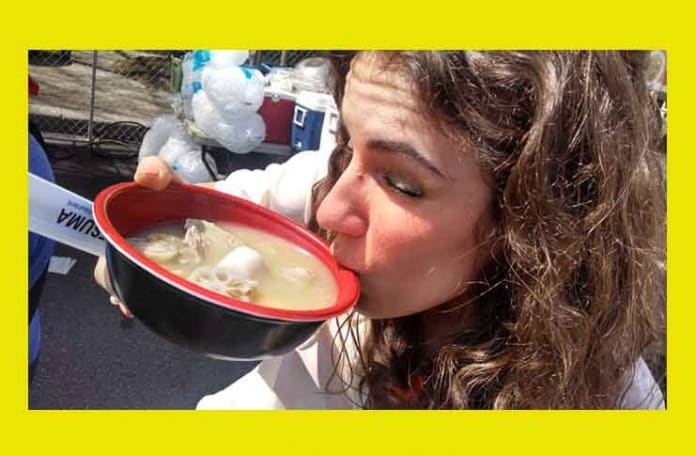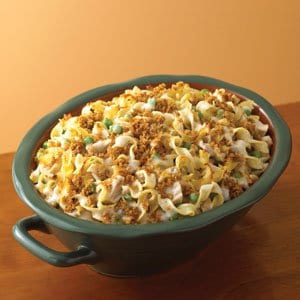 This Friday's Recipe is not street food, but it has been one of our house's favorite recipes for many years.  It's easy to make, and there aren't any hard-to-find ingredients – it's made with items easily found in most kitchens.
I did not grow up cooking, and this was one of the first recipes I learned how to make in a college apartment.  My son is in his first college apartment, and he just asked for this recipe too.  It's always been one of his favorite comfort foods.
1 12oz. package of broad egg noodles
1 ½ cups frozen peas
1 8 oz. can solid white tuna
2 Tbl. Butter
1/2 cup finely chopped onion
1 can condensed cream of mushroom soup
1/4 cup sherry (white wine or milk can also be used)
¼ tsp nutmeg
6 slices American cheese broken up
Topping
1 Tbl. Butter
1/2 cup seasoned breadcrumbs
2 Tbl. Parmesan cheese (optional)
Preheat oven to 350 degrees
Boil noodles 2 minutes less than the package instructions, toss with butter or olive oil and set aside.
Rinse frozen peas under warm water until thawed.
Drain tuna and shred with fork.
Melt butter in small sauce pan, add onion, and sauté over medium high heat until soft.  Lower heat and add mushroom soup, sherry, nutmeg, and American cheese.  Stir until cheese is melted and all ingredients are blended.  Add tuna and stir till blended.
Stir the sauce into the noodles until noodles are evenly coated.  Stir in peas.  Place all ingredients in a casserole or baking dish.
In the now empty pan, melt remaining tablespoon of butter.  Turn off heat and add bread crumbs, stirring to coat with butter.  Toss in parmesan cheese.  Sprinkle evenly over casserole.
Bake for 30 minutes and serve.
Enjoy!