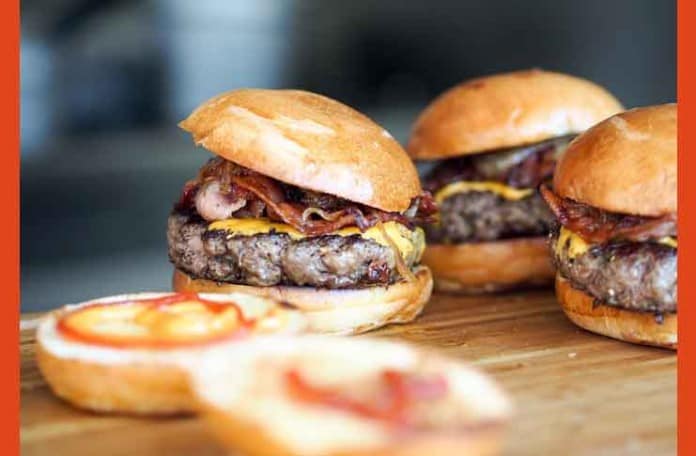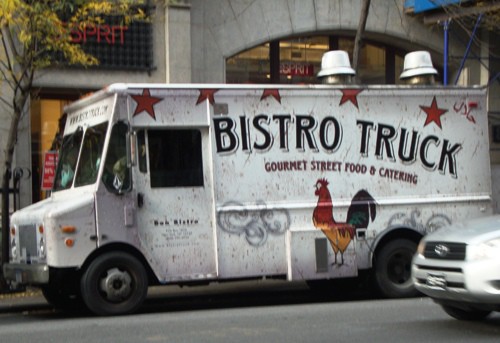 In the final installment of Burger Week on New York Street Food, Today's Lunch is a Bistro Burger from Bistro Truck.  Bistro Truck was a 2010 Vendy Award finalist in the main category, but Yassir is more known for his Moroccan cooking than burgers – or so I thought.  The more I researched Bistro Truck, the more I saw how many people really like their Bistro Burger.
For NYSF Burger Week, we started with a Carnegie John cheeseburger on Monday, a Frites 'N' Meats "Bite Back" burger on Tuesday, a "Mother Trucker" from the Green Truck on Wednesday and in a slight detour south of the border, sliders (and a taco) from Mexicue yesterday.
Today's Lunch is a Bistro Burger ($4.75) from Bistro Truck.
The first apparent difference was that Bistro Truck doesn't have ketchup.  They put Bistro Sauce on the burger, which is harissa mayo.  It did end up being pretty messy, with some of the sauce dripping out of the bun, and added a little bit of spiciness.
BTW, if you order the Bistro Burger towards the end of next week and want ketchup, you can get it from the Heinz Truck who will be in town giving out free fries and ketchup from Nov 24-26.
The Bistro Burger is not huge like the burgers from Frites 'N' Meats -it's an average size patty – but it's roughly half the price of an F'N'M gourmet burger.  The Bistro Burger was cooked to order, and when I asked for medium, it was cooked to medium with a little pink in the middle.
They don't put a lot of extras on the burger, but there was cheese, 2 slices of tomato and some arugula leaves, which was definitely better than lettuce.  I could tell they also added salt and pepper to the burger, which added a bit more flavor.
I really liked the bun they served it on.  The bun was an egg-based roll with sesame seeds, and it was thick and soft.  I really like burgers on egg-based rolls (like challah).  It adds another flavor dimension to the burger.
Today's Lunch was a nice finish to Burger Week on NYSF, and we give the Bistro Burger a 7.5 out of 10.