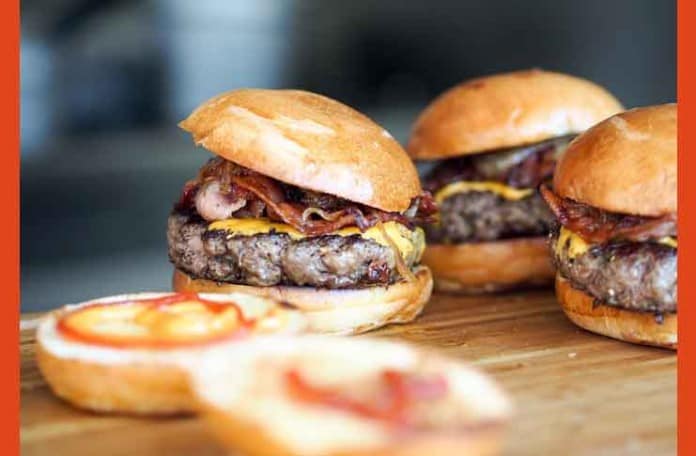 NYSF Note: We just got back from a few days out of town and were not able to go out for lunch today.  This is the lunch we had from Bistro Truck on the day the Vendy Award Finalists were announced, but did not have time to write up that day.
With Bistro Truck being nominated as a Vendy Award finalist for 2010, as well as celebrating their 1st birthday, it's a miracle Yassir has the time to come up with new dishes – but he does.  The latest example is a salmon burger, which cost $10.89 with tax, and is Today's Lunch.
The Bistro Truck was busier than usual, which is probably due to the Vendy Award nomination.  However, we've been telling you about Bistro Truck for quite some time, and touting them as one of the best new trucks around.  Guess we weren't the only ones who noticed.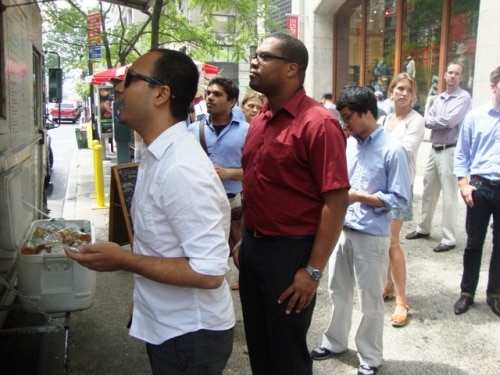 When I got back to the office and checked out my lunch, there was a nicely grilled salmon burger with some spices and green pepper mixed in with the salmon.  The burger was on a sesame-seed egg roll with tomato and fancy lettuce (mesclun?) on the bottom , as well as harissa mayo, although it wasn't spicy.
The salmon burger had other things in it, but the dominant taste was salmon.  It wasn't a heavy, fishy taste, but a nice, salmon taste. This was a high-quality salmon burger with good ingredients, bit somehow it didn't "pop".  Don't get me wrong – it was pretty tasty, but it needed something else to take it to the next level, either another spice or a different sauce.
Today's Lunch gets an 8 out of 10.  The salmon burger was good, but it's not Bistro Truck's best dish.  It also cost around $11, which is not unexpected for seafood, but more than I usually spend for lunch.  They lose a little for value on this lunch, but if you like salmon burgers, you will probably enjoy it.
For the record, my favorite Bistro Truck lunch was poached tilapia with olive oil and herbs (below), and their mixed grill was a meat-lovers paradise.  Dishes like those give them a real shot at winning the top 2010 Vendy Award.