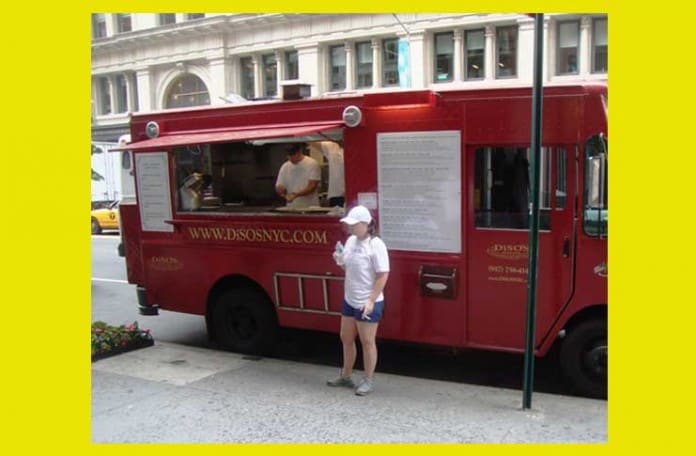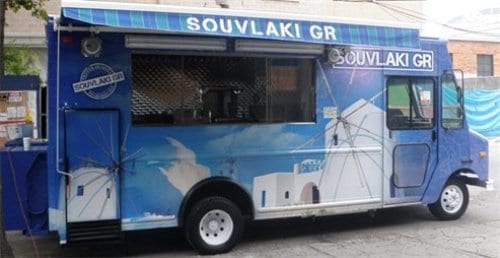 It's not the nicest day out, but don't let that stop you from enjoying some great New York Street Food from the vendors on the right and the trucks below.  It certainly won't stop most of the vendors.
We're getting towards the end of summer, but new food trucks are still sprouting up, like Souvlaki Gr(eece), Kelvin Natural Slush Co and Joyride, but we are in the thick of vacation time.  If you need a schnitz fix, get it this week because Schnitzel & Things is taking off next week, and Big Gay Ice Cream Truck is off this week because they are in SF for the SF Street Food Conference and Festival.
Do you have what it takes to be Miss/Mister Wafel 2010…A year of Free Wafels is at stake.  Sign up: http://thedinges.blogspot.com/
schnitzeltruck – Hey guys. Water and broad today. Don't wanna wait in rain? Call in your order @ 347-772-7341. http://schnitzelandthings.blogspot.com/ weekly schedule is up.This will b our last week until after labor day. so get ur schnitz on this week.
qbacubankitchen – Hola! We will head to Wall St for lunch & hope the rain will stay lite!  Service 11:30/11:45am wall st
CalexicoCart – Come on down to Prince & Wooster for the Gringo Especial: fresh ground beef spiced just right & topped with Pico & Sour. Enjoy
nyccravings – On the corner of 52nd Street and 6th Avenue! Ready by 11:00am!
StreetSweets – Good morning, New Yorkers! We r on the corner of 46th St and 6th Ave with amazing coffee on ths gloomy Monday morning. Come say hi!
fritesnmeats – Hey Midtown East! Were back on 52nd b/w Park & Lex. Couldnt get corner spot. Burger of Week is Zorba the Greek. Angus Patty, Feta, Kalamata Olives, Fresh Mint & Oven-roasted Tomato! Dont forget our skirt steak s'wich!Were calling today Sassy Monday. Get a Burger & Frites, & get 1 of our Sassy Frites Sauces free!! Just say "Gimme Some Sass"!!!This rain sucks. But guess what? If ur within 4 blocks of us we'll deliver today. 5 Burger minimum. Have a Burger Love party! 917.292.9226
CupcakeStop – CupcakeStop trucks on 52nd & Lexington and 6th & 16th, shoppe inside the Limelight 6th & 20th and bakery in Montclair 1 Greenwood Ave. Red Velvet,Funfetti,Vanilla Choc,Oreo,Choc PB Swirl,Cinnamon Spice,Cookie Dough,Fluffernutter,Hummingbird,Banana Nut and Peanut Butter Cup!
LCBBurgerTruck – Happy Monday! The LCB Burger Truck is located at 111 Wall Street today. Enjoy!
waffletruck – We are on Broadway between 113th & 114th. Give us your best Pee Wee Herman impression for 1 free Dinges. Still looking for Miss / Mister Wafel 2010 contestants tomorrow…Year of Free Wafels is at stake. Sign up: http://thedinges.blogspot.com/
RickshawTruck – Rainy Mondays: Down near World Trade at Greenwich + Barclay as well as in DUMBO at Front + Wash. We will be there from 11-3p
joyridetruck – It's Monday, so a coffee is in order. Why not make it a great cup of coffee? Stop by 52nd & 6th from 7:45am until 6:00pm to taste the @stumptowncoffee difference.
EddiesPizzaNY – we are on 26th btwn 11th and 12th until 3pm w/one free topping if you show us our twitter page. dont be shyyyy. Call ahead and we will deliver! 9174397522
quickstopkosher – We will be waffleling and falafeling on Monday August 23 at West 33rd Street and 9th Ave!! @bhphotovideo!! We will be there from 8am to 5pm! We know also do deliveries!!! For all those that are interested, get in touch with us!!! Make your @Quick Stop even more hassle free!!!!
miss_softee – it's raining, it's pouring, I'm hitting snooze on my alarm and going to continue snoring!!!
KELVINSLUSH – Ugly day so we're going to be closed today to catch up on some stuff. See you soon!
Hoboken/Jersey City
TheKrave – 8/23 Schedule – Sorry…no lunch, but see you for dinner http://tumblr.com/xl1gia1nk Columbus and Marin. 5:30-9:30
VeganLunchTruck – The Snail is coming to NY Sunday Sept 5th. http://meanredproductions.com/2368 We will have a stand in Red Bank… http://fb.me/ydZ69m93