The Bistro Truck has been in mechanical hell for the past few weeks, but they are back in a rented truck.  Yassir told me they hope to have their regular truck back by next week, but for now, the rented "Mr. Shawerma" truck will have to do.  They still have the same menu with their regular fare and daily specials.
I've missed their Moroccan cuisine, which is a nice tangent from the usual halal chicken and gyros I have several days a week.  In fact, one of the best lunches I've had since starting this website was their poached tilapia.  If they don't get a Vendy Award nomination this year, I'll be quite surprised.
Today's Lunch was one of their regular specials – the mixed grill ($10).  It's a little more than I like to spend for lunch, but has a lot of meat: chicken, lamb, steak and merguez sausage.  (Love merguez sausage!)  It's all served over rice with a nice salad.
The meat had a red onion-tomato relish on top that was delicious – a sweet and slightly spicy addition to the meat.  The meat itself was well spiced and mostly tender – but the lamb was a little chewy, as lamb often is.  There was also a nice garlicky tzaziki sauce that went perfect with the dish.  As expected, my favorite part of lunch was the merguez sausage.  It was spicy and meaty and wonderful.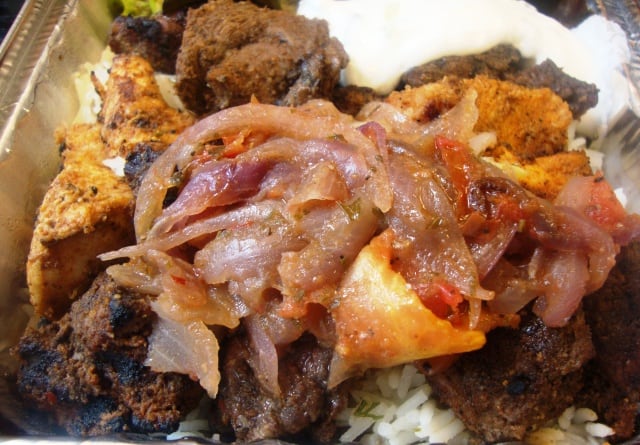 The rice was lightly spiced with herbs and cooked just right.  The salad had a nice variety of lettuce and a balsamic vinaigrette that was a good finish to the meal.  (I like salad at the end of a meal).  There were even a few stray pieces of beef under the lettuce that was a nice surprise at the end.
Today's Lunch was a solid 9 out of 10.  The food itself was great, but the $10 cost brings down the value component.  However, I hear their bistro burger is very good, as is their portobello mushroom burger, which are both $5.  Most of their other dishes are in the $7 range, which is also fine for lunch.
Welcome back Bistro Truck!  Great to have you back on lower 5th Ave.