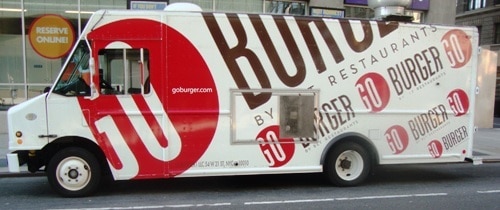 I felt like VIDALIA ONION RINGS and some meat. I'm not usually a big fan of turkey burgers, but I've already tried most of the items on the Go Burger menu, and sometimes you just have to take one for the team.  Turkey burgers that I've had in the past were generally on the bland side and often fairly dry.  Hopefully Go Burger's will be better.
The turkey burger was $6, one of the cheaper items on the Go Burger menu, so I added a slice of cheddar cheese for $1 and an order of Vidalia onion rings for $5.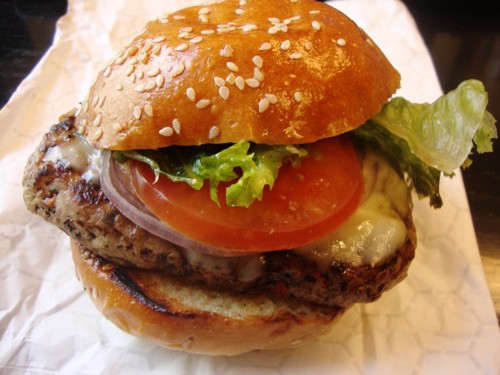 The Turk was more rectangular than round, but it was liberally spiced with herbs and peppers, and was juicy.  Even though it appeared to be a machine-made burger, it was not your run-of-the-mill dry, boring turkey burger.  The peppers even added some spiciness to the burger.
Add in the cheddar cheese, lettuce, tomato, red onion and a soft sesame seed bun, and you have the makings of a very nice burger.  I almost always get a beef burger, but this will make me think twice next time.
The vidalia onion rings were excellent. Initially, I wasn't sure about spending $5 on onion rings, but someone has to do the dirty work.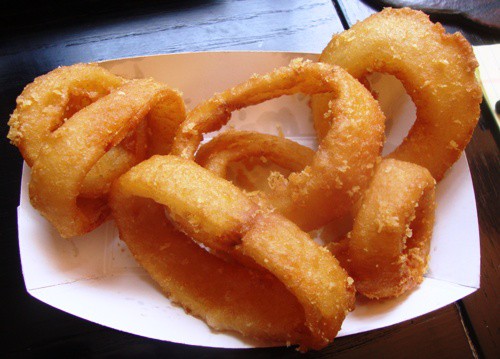 The rings were not a huge portion, but I would rather have a few great ones than many mediocre ones.  That was the case here.  The breading was very light and crispy, but not heavily greasy.  There was obviously some grease because the rings were deep-fried, but these were among the larger, lighter and cleaner onions rings I've had lately.
Using vidalia onions for the rings made the onion part really sweet too.  Not like they were sauteed in something sweet, but naturally sweet onions.  Very nice!
The Go Burger truck makes the rounds of various neighborhoods, and can be found on twitter here or on our Mobile Munchies twitter feed.  For a burger truck, they make really good hot dogs too.