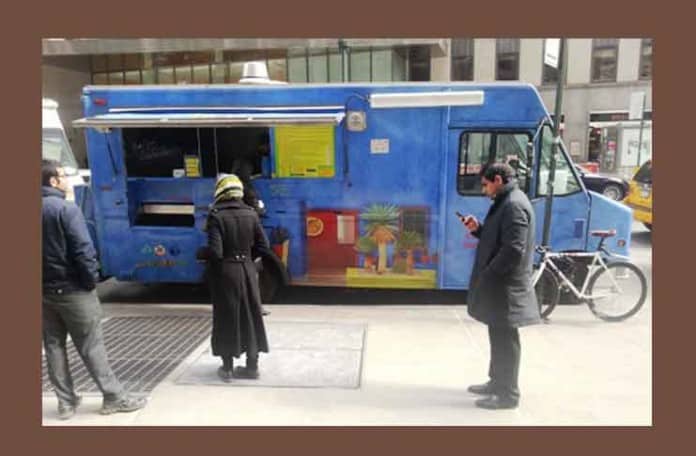 Another wonderful day in Gotham.  Enjoy some great street food from the vendors on the right and the trucks below.  The Bistro Truck is back, but they are in disguise (a temporary truck in their regular location of 5th Ave bet 16th & 17th St while their regular truck is being fixed).
Had to go to a meeting and couldn't wait for everyone to check in today.  Make sure you check the pink Mobile Munchies twitter feed on our homepage before heading out.  You never know when your favorite food truck will have to move on a moment's notice because of a movie shoot, water main break, or schnitz bomb.
BistroTruck – 11:30 sharp. Special: Mixed grill (lamb, chicken, merguez & steak over basmati rice), split pea soup and creme caramel for dessert.
RickshawTruck – Tues 5/11 were serving delicious dumplings on 11 ave btwn 46&47 also on 52 & lex!
CalexicoCart – Both carts are out. Today's special is Braised Beef Brisket in a Roasted Jalapeno Sauce, enjoy!
fritesnmeats – Hey Battery Park City & WFC! Were bringing Burger Love ur way! Were by WFC #3 on corner of Liberty St & South End Ave. Spread the word!
CupcakeStop – 5&23rd:Red Velvet,Funfetti,Nutella,Oreo,Van Choc,Choc PB Swirl,Cookie Dough,Choc Choc,Van Van,Key Lime,Brownie Cream Cheese & Almond A'more! 4 minutes ago via web
waffletruck – Our beacon of wafel hope is shining at the Seaport today, from 10am till 8pm. Corner of Fulton & Front.
waffletruck – Hooray for Tuesday! We're on 52 St btwn 3 & Lex til 4:30pm. We got the BBQ Pulled Pork Wafel for your lunching pleasure. Tell us what sound you would eliminate from your range of hearing=1 free dinges.
schnitzeltruck – 46th between 5th & 6th?? What's cracking?sound of schnitz being slung that's what's cracking. Let's pretend we have veal. We don't 🙁 11:30!
StreetSweets – Good morning Oglivy we will b open & ready 4 u at 8:30a Please spread the word to your associates that St Sweets is in front of the building
PapaPerrone – We are having a problem with our truck we hope to get it fixed asap we will keep you updated
New Jersey Food Trucks
laspicetruck – lunch@hudson-york 11:30-2:00 gourmet sliders and sandwiches, bacon creme brulee@ JC, http://twitpic.com/1mxhis