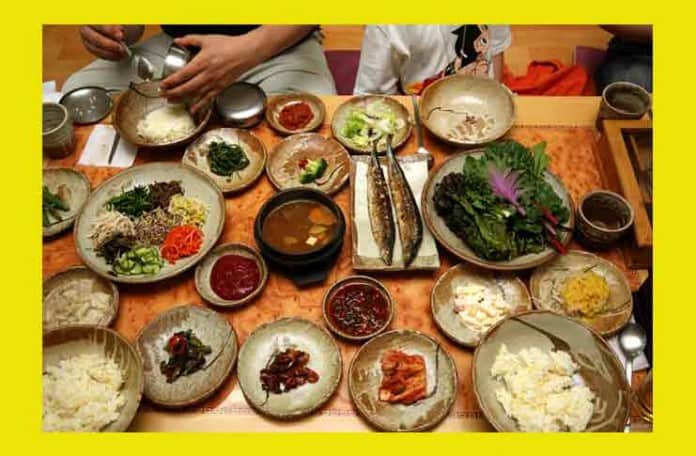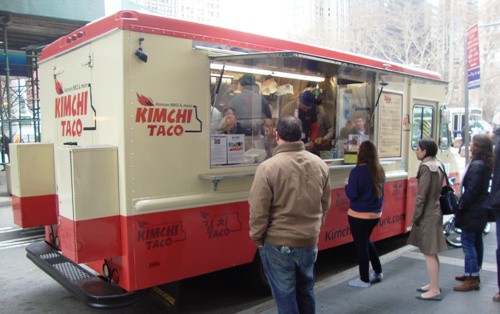 When we went to the Kimchi Taco Truck a couple of weeks ago for our First Look, we tried a Kimchi Taco Set with assorted tacos.  While the fillings were very good, we had a problem with tortilla breakage, and ended up having to use a fork.
Since we had to travel back to the office with lunch again, we changed up our strategy and went with a chicken Kimchi Bowl ($8) for Today's Lunch.  We also ordered Kimchi Arancini (rice balls) for $3, which looked pretty good when someone in front of us got it.  We're definitely impulse buyers when it comes to food.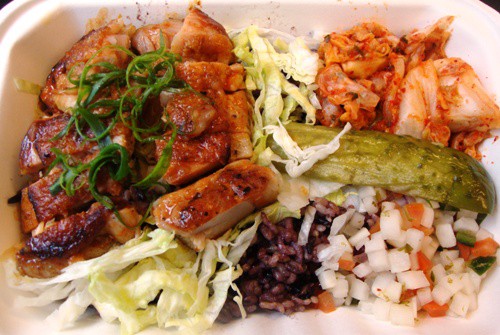 Even though arancini is an appetizer, we decided to eat the kimchi bowl first.  Since arancini are fried rice balls, they should stay hotter longer.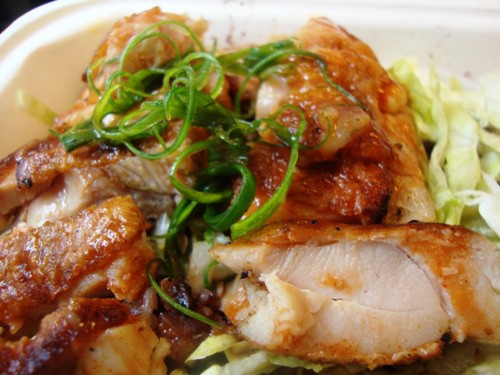 The chicken was a breast with the skin still on, and it was glazed with soy sauce and chili sauce.  It wasn't particularly spicy, but it was really tasty.
It was seared on the grill, which gave it a lightly grilled flavor, but the soy sauce still came through fine.  Chicken skin is not the healthiest thing to eat, but it was delicious!  There were shredded scallions served on top, too.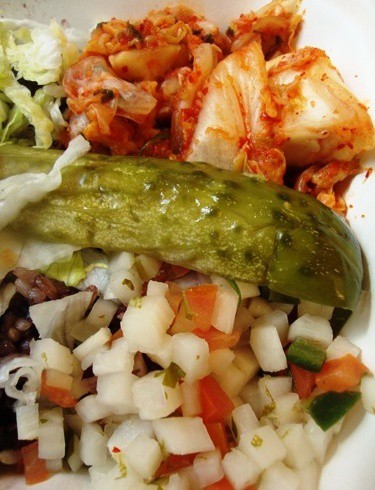 The chicken was served over rice, and there were a few other side dishes as well.  My favorite was the spicy pickle spear, but the Asian pico de gallo and kimchi were really good too.  The pico de gallo had tomatoes, green peppers, red onions and a white, tuber-like vegetable.  It wasn't potato, but could be taro or something like that.  The homemade red kimchi was definitely hot as well, with that distinct kimchi smell.
You get a choice of white rice or multi-grain rice, and I went for the multi-grain, which was a great choice.  It was purple (?), with several ingredients like split peas and beans, and at least two types of rice.  The rice seemed to have a slight nutty flavor to it as well, and it was very enjoyable.
After finishing the kimchi bowl, I opened up the kimchi arancini container.  There were 3 rice balls and some hot sauce for dipping.  The rice balls had mozzarella cheese and red pepper paste, and were rolled in panko crumbs and fried.
Wow, am I glad I ordered the arancini – they were excellent!  Korean rice balls, just as advertised, and very well done at that.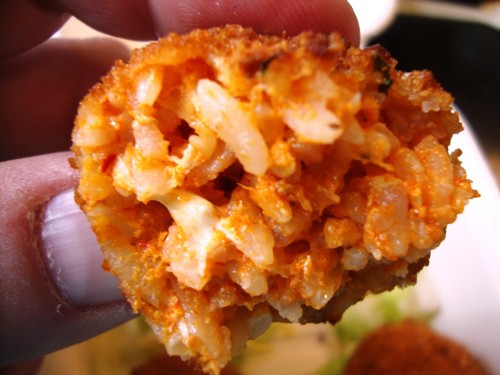 Today's Lunch lived up to the hype surrounding the Kimchi Taco Truck – every aspect of it was great.  In our opinion, the seared chicken and kimchi arancini were exceptional, but the multi-grain rice, Asian pico de gallo and home made kimchi were excellent too.
Next time I want to try a kim-cheesesteak.  If the Korean rice balls were this good, the Korean cheesesteaks should be quite interesting, too.
The Kimchi Taco Truck website is here, folow them on twitter here, – and don't forget – they will be opening the Kimchi Grill in Prospect Heights in a couple of months.