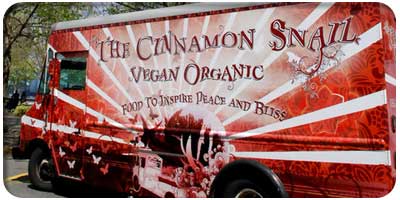 It's a cool, sunny day outside, but things are heating up on the New York Street Food scene.
If you want a burger, Feed Your Hole has a special Amsterdam Burger and Frites 'N' Meats has a special Maker's Mark (bourbon) burger.
It's also International Wafel Day.  You can get a free wafel by wearing red, black & yellow, the national colors of Belgium.  And the Air France Food Truck is by Rock Center today giving away free food.
Across the river in Hoboken, the Cinnamon Snail has come out of hibernation and is on 1st & Sinatra. You don't have to be a vegan to enjoy delicious food from the 2010 Vendy Award Finalist in the Rookie of the Year category.
As always, check the Mobile Munchies twitter feed before heading out, in case anyone had to move at the last minute.