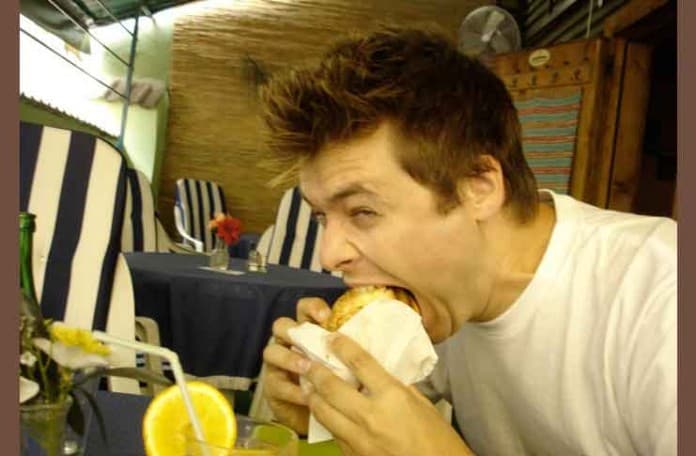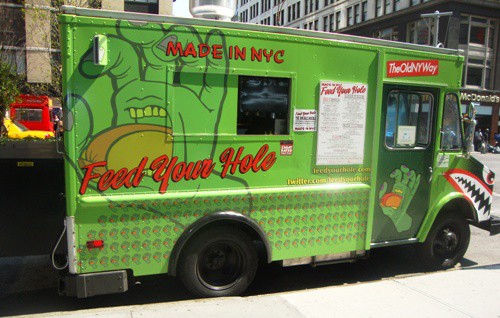 I keep hearing about Double Double Fridays at Feed Your Hole, and today I finally took the plunge.
The only doubles I've had related to street food are Trinidadian doubles, which I had at the Trini-Paki Boys cart, but that has nothing to do with what Sean was serving at Feed Your Hole.
The Double Double at Feed Your Hole is double beef, double cheese and double pickles, which was Today's Lunch.  It cost $7.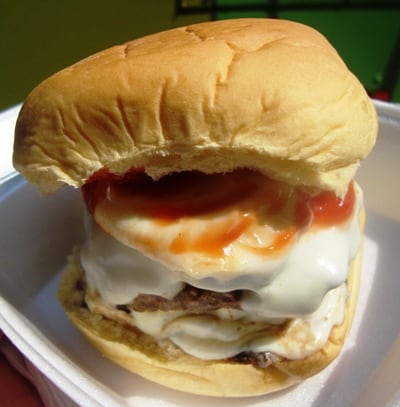 If these were the size burgers they used to serve at Feed Your Hole, two of them would have been way too much for lunch.  Since they switched to a slider menu, the Double Double is just about right for a filling, but not overstuffed, lunch.
The blend of beef Sean uses is very tasty.  The burger stays nice and juicy, and is not fatty at all.  He also cooks it to rare, so there's still some pink in the middle.  I don't like burgers that are too well done.  IMHO, there needs to be some pink in the burger.
Double American cheese is a wonderful thing, as are double pickles.  A little ketchup on there and I was in a happy place.
Today's Lunch from Feed Your Hole was delicious.  Now I know why I keep hearing about the Double Double.  To paraphrase the song New York, New York – it tastes so good, he had to name it twice.