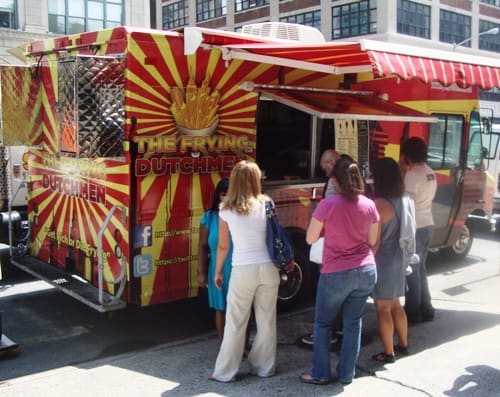 It looks like today is the calm before the storm.  It it beautiful and sunny, so get some great New York Street Food from the vendors on the right and the trucks below before Irene hits the fan.
In case you haven't heard, just about all outdoor events have been cancelled this weekend, including the Afro Punk Festival, the Staten Island Foodie Truck-athon, Smorgasburg, and over 300 other events, according to the Daily News.  Stay safe this weekend everyone.
The police are still actively chasing vendors away from metered parking spots, so make sure you check our Mobile Munchies twitter feed before heading out, in case anyone had to move at the last minute.
KELVINSLUSH
The calm before the storm. Hope you can take advantage and come get a slush today. Probably your last chance till Monday 🙁
morristruck
Hey y'all! Grillin' cheese over on 6th ave. and 19th st. Come by and try some duck prosciutto with house pickles and blue cheese. 11:30-3:00!
Chefsamirtruck
Comme Ci, Comme Ça is on 36th St @ Broadway today! Special of the day: GRILLED TILAPIA served over INSALATA DI PASTA (rotini with cherry tomatoes, olives, tuna, fresh basil) $10
UncleGussys Goodmorning Sitting outside the truck enjoying the breeze. Ok folks Friday Friday, get your gyros here lol…
gcnyc1
Gorilla Cheese NYC Gorilla on 47th & Park …11-3….Tonight Stuytown 4-8pm….Daily Melt: Lump Crab..It's the Most….Cheese Up yo…..
pizzatrucknyc
W. 4th and Mercer from 11:30 to 3:00! Pepperoni and sun-dried tomato pizzas today! Pizza and a San Pellegrino. The perfect lunch.
TaimMobile The lot at the highline today! 30/10th ave all day all night.
fritesnmeats Good morning FIDI! lunch today @ water & broad we brought xtra help with us today, we also brought THE MAKERS MARK KOBE BURGER! Burger of the week THE MARITAL BLISS! grassfed angus patty with cream cheese jalepenos & smoked applewood bacon. Preorder 9172929226
AndysItalianIce Friday 8/26: Private event out east then to Cellini lodge Italian feast. 6-11PM Last night due to weather.
biandangnyc We are here from 11:30-2pm on vanderbilt btwn 46th and 47th.