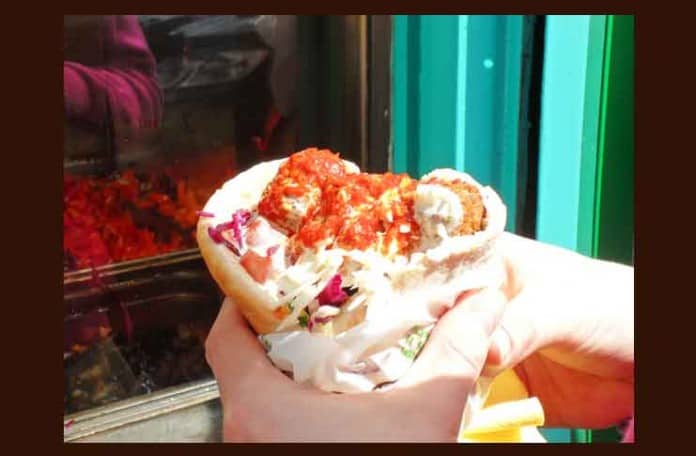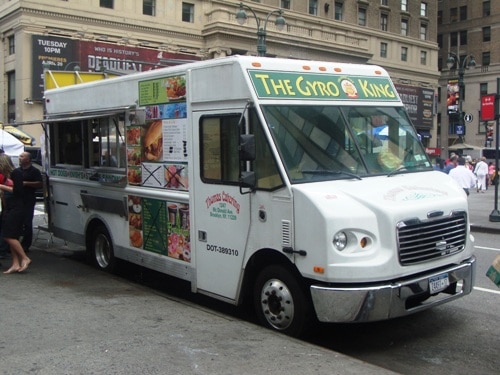 Last time I was in the Penn Station area, I had some success with the SBS Indian Express on West 33rd St between 7th & 8th Ave.  In order to get to SBS, I passed another truck with The Gyro King on a big sign on the front.  While there was a steady line at SBS that day, there was none at Gyro King, which made me a little wary, since it was lunchtime.
Today when I went back, there was a small line at Gyro King.  Following one of my basic rules, I ordered a gyro since it was in their name.  Would the Gyro King live up to it's name?  Click through to find out.
Since there was a small line, I had a chance to scope things out a little before ordering.  There were the basic chicken or gyro meat over rice, falafel, etc, but there was also a separate hero & subs menu with Italian sausage, Philly cheese steak, and a few other sandwiches, one of which caught my eye – and not in a good way.
Pastrami sandwich with cheese?  For New Yorkers, pastrami with cheese is like garlic to vampires.  My grandparents would be spinning in their graves if I ate pastrami with cheese.  Might as well put mayo on it.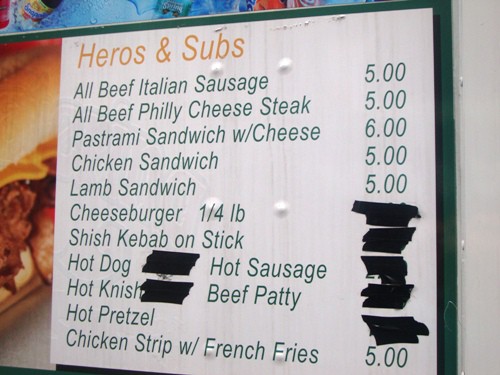 I also looked into the truck, and the chopped up gyro meat on the grill didn't look too appetizing.  The other side of the grill had some marinated chicken, some chopped up and some that hadn't been chopped up yet.  That was a good sign, so for Today's Lunch, I ordered a chicken gyro with no tomato, white sauce and extra hot sauce ($5).
Opening up the tin foil, it was a good thing he double wrapped the gyro.  The outer layer was fine, but the inner layer was pretty messy.
I plopped a piece of chicken into my mouth and was met by a fiery hot taste.  Wow! That was hot!  I ordered extra hot sauce because at most places, it's not really that hot.  At Gyro King, extra hot sauce was a mistake.  It basically obliterated the white sauce, which might as well have been non-existent.
The chicken was orange-ish from the marinade, and there were both white and dark meat chopped into fairly large pieces.  You could also see onions and green peppers mixed in with the chicken.  I took a few bites, and decided this was a pretty good chicken gyro.  The hot sauce somewhat overpowered the sandwich, but that was my fault for ordering extra.  I'd like a do-over on the hot sauce, but will just have to try them again in the future.
Today's Lunch was a 7.5 out of 10.  As I was about halfway through the sandwich, the pita bread started falling apart.  Luckily I was at a desk and had a fork in my drawer – but if this was eaten on the street, it would have been a problem.
The chicken was good, not amazing, but the hot sauce was awesome.  Just be careful not to order extra.  I can't comment on the white sauce because I didn't taste it, although I did see him add it to the gyro.
I'm not sure if the Gyro King lived up to it's name.  This was more of a Middle-Eastern shawarma than a Greek gyro, and it was not the best one around, but for $5, it was a decent lunch in the Penn Station area.