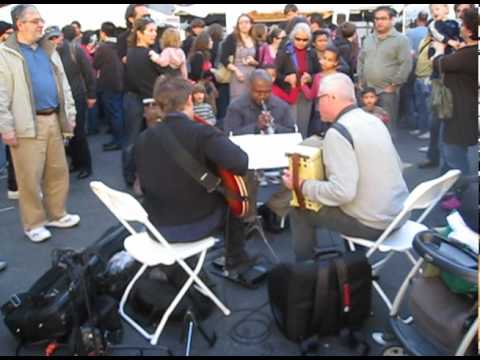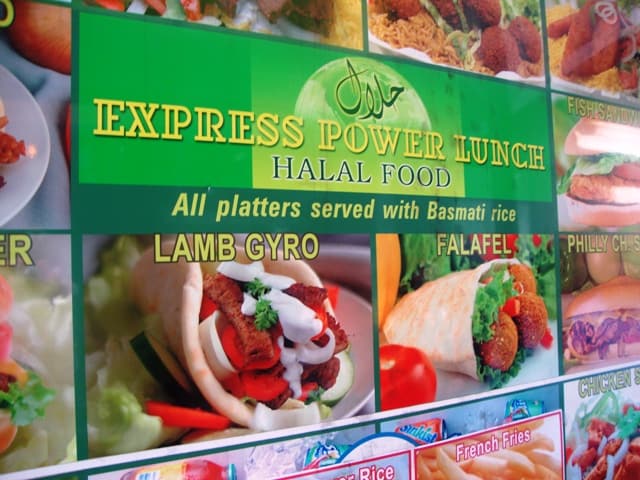 I went to Macy's Herald Square over the weekend and saw a food truck on the SE corner of 33rd and Broadway that I hadn't noticed before called Express Power Lunch.  The man who took my order said they have been there around 8 months, but I have never seen them or read about them anywhere before.  I asked if they were affiliated with the XPL truck on 48th & Park, which is very well known and I reviewed a few weeks ago, or the Express Power Lunch cart downtown.  They said no.
There were a varied group of people ordering, and most were ordering chicken over rice, the gold standard of street food.  I've been having quite a bit of rice lately, so Today's Lunch was a chicken gyro with white sauce and extra hot sauce, as well as everything but tomato.  Ordering "everything" can have different meanings for different vendors – here it included lettuce, green peppers, raw onion and tomato (which I declined).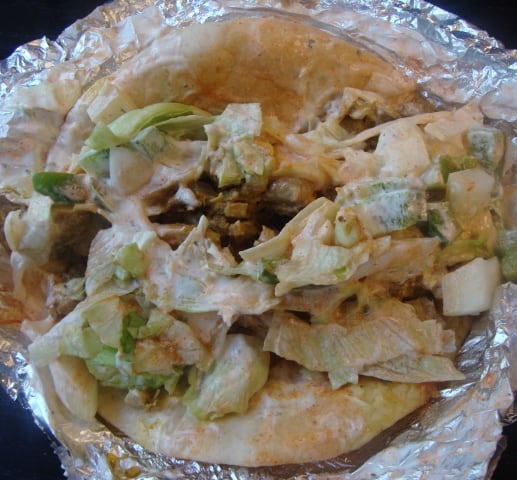 When they made the gyro, one difference was immediately apparent – they didn't have a grill in the truck – which in this case meant stewed, shredded chicken in the gyro.  One advantage to stewed, shredded chicken in a gyro was that it stayed moist.  Not a chance in hell of this chicken being dry, but when you add white sauce and hot sauce, it can be messy.
And it was.  Even at my desk, this was a messy lunch.  The pita got pretty moist, and it definitely dripped after most bites – but it was very tasty.  The mix of stewed chicken, white sauce and hot sauce was a great mouthful.  The green pepper, raw onion and lettuce provided some crunch and texture with the chicken, and the white and hot sauces was all wonderful goodness.  The white sauce was creamy, the hot sauce did the trick, and overall, this was a good, if not particularly healthy, lunch.
Today's Lunch was a 9 out of 10.  I had never heard of this place before, but will be coming back, and Express Power Lunch will be added to the NYSF directory and map.  This was a very yummy lunch for $4, but now I understand why most people ordered their chicken and sauces here in a platter over rice.  Much neater.