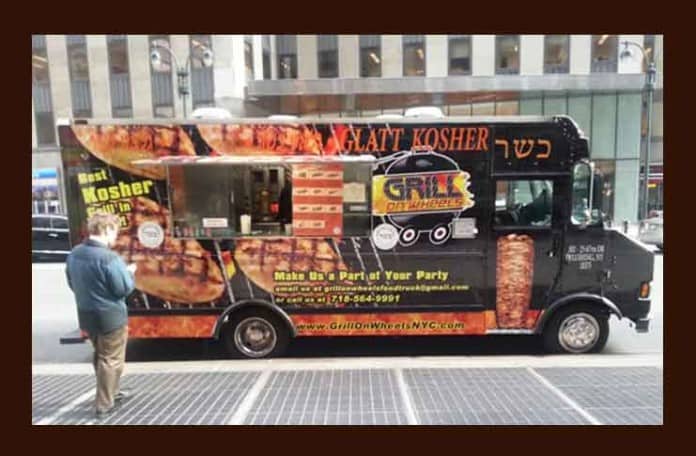 Hope everyone had a good weekend.  Enjoy some of the best street food from the carts on the right and the trucks below.
fritesnmeats – Mornin' FiDi! Were on Broad & Water. Check out http://fritesnmeats.blogspot.com 4 Burger of the Week, weekly sched & Tales of Schadenfreude. Taking preorders til 1130 917.292.9226
waffletruck – Happy Monday! We're on Broadway btwn 113 & 114 til 4:30pm. Explain the Higgs boson for 1 free dinges today.
CupcakeStop – 52nd & Lexington w/ Red Velv,Funfetti,Nutella,Oreo,Van Choc,Choc PB Swirl,PB Cup,Starry Night,Carrot Cake & introducing the FRENCH TOAST!
nyccravings – 48th btw 6th & 7th.. ready by 11:10!
schnitzeltruck – Will be on 52nd between 6th & 7th.. Shhh!
RickshawTruck – Raindrops keep falling on my head….but our dumplings are awesome. MIDTOWN EAST: 46 bet 5av + 6av and ALSO at DUMBO: Front + Wash. 11a-3p
CalexicoCart – Due to technical problems the broome and Crosby cart is closed today. Please come down to Wooster and prince for all ur taco needs
BistroTruck – is off Today, Tuesday and Wesday… Mechanical problem
StreetSweets – Happy Mon. (we think) St Sw will be off today, performing some truck maintenance. Tues we'll b back out, possibly trying a new location.
New Jersey Street Food
thekrave – 4/26 – 12:00-2:15, Hudson between York & Grand. 12:00-2:00, Hudson & Essex, Inside Liberty Towers Gourmet….
TheTacoTruck – Lunch today in Hoboken @ Sinatra Dr. & 2nd St. from 11:30-2:30. Brighten your rainy Monday with tacos.
laspicetruck – The little white truck isn't working today, be back on the road serving lunch tuesday! C u in Hoboken saturday for the LPT dessert truck
As always, check the pink Mobile Munchies twitter feed on our homepage before heading out to make sure your favorite food truck has not recently moved locations.  Schnitzel & Things has already tried 3 different spots today and finally settled on 52nd bet 6th & 7th Ave (hopefully).