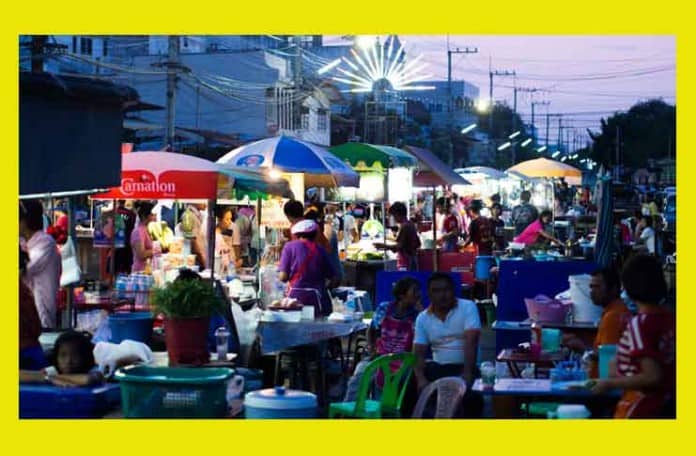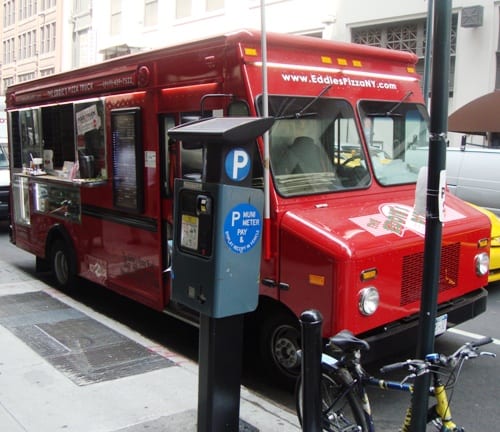 I've had a couple of "bar pies" from Eddie's Pizza Truck that were pretty good.  Now that they have heros for lunch, I wanted to try one out.  Chicken parm heros used to be a regular lunch item for me before I started eating street food every day for lunch.  Time to combine these two interests.
Today's Lunch is a chicken parmigiana hero from Eddie's Pizza Truck ($7).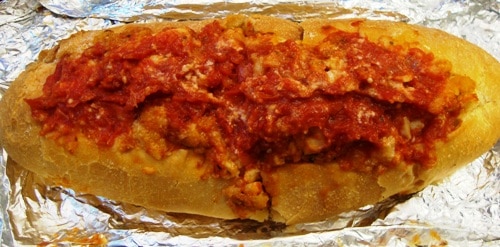 When I unwrapped the hero, three differences were immediately clear between this hero and the ones I usually have:
the hero bread was split on top, not on the side;
the chicken was not a whole cutlet, but was a breaded cutlet that had been chopped into pieces; and
there was no mozzarella cheese on top of the hero, but there was mozzarella cheese under the chicken and some grated parmesan on top.
Do these things matter much, or am I just being picky?  Let's decide one by one.
The top-slit bread did make it a little tougher to eat, and a piece of chicken fell off and hit my shirt during lunch.  The bread itself had a nice texture, with crustiness on the outside and softness inside, but the slit only took up 3/4 of the bread, and I was left with 2 large bread ends and no chicken or sauce at the end.  I've lived in the NY area my entire life, and never had a top-slit Italian hero before.  Don't know why Eddie's does it this way.  Maybe they can let us know.
The chopped chicken cutlet did make it a little easier to eat, but it probably also contributed to the piece falling onto my shirt.  A whole cutlet wouldn't have done that (unless of course the whole cutlet fell out :)).
The only reason I can think of why it was done this way was so they can use chopped chicken cutlet for either heros or pizza, as needed.  It doesn't take long to chop up a cutlet for pizza, but maybe this helps save time during the lunch rush.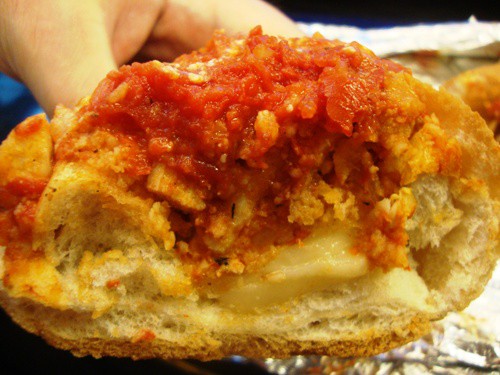 In theory, it shouldn't matter whether mozzarella cheese is on top of or below the chicken, but it didn't melt at all under the chicken.  I got the mozzarella taste, but not the enjoyment that comes from eating a chicken parm hero with sauce and lots of gooey mozzarella cheese on top.
That said, the chicken was of decent quality, and the tomato sauce was enjoyable too.  I generally like sweet tomato sauces, but this was not a sweet tomato sauce, and I liked it just fine.  You could see small pieces of tomato and some onions in the sauce, too.
Today's Lunch gets a 7.5 out of 10.  At $7, the value was ok, and the chicken and tomato sauce were good.  It was difficult to eat at times, and I would have liked more mozzarella cheese, even if it was under the chicken, and for the cheese to be melted more.  The bread was good, but it needs to be sliced the entire length of the roll, or else you will get to the end and have no chicken or sauce.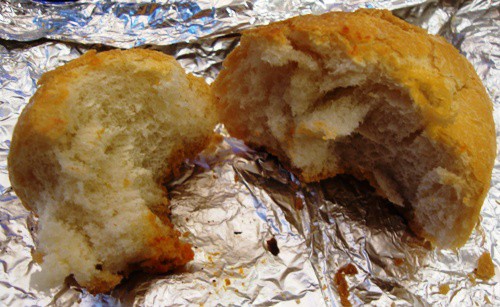 For some reason, Italian heros I've had from food trucks haven't compared favorably to ones I've had at my favorite pizzerias.  Do you agree or not?  Please let us know in the comments.  Maybe I just have really great pizzerias near my home and office.