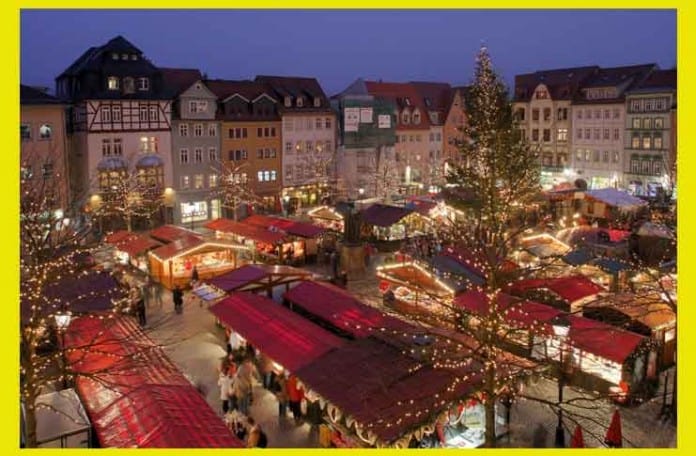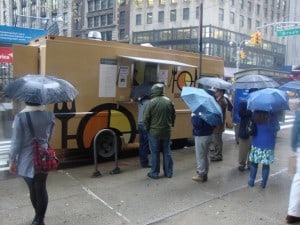 It's a rainy Monday, but that didn't stop people from schnitzing it up at the new Monday location for the Schnitzel & Things truck, Broadway & 57th St.   Last Monday was their first stop in this new location, and I couldn't be happier.  I literally did not have to cross the street to get Today's Lunch.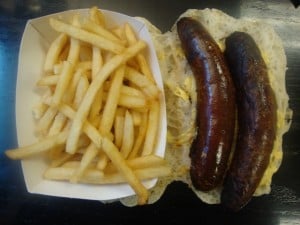 Last week I had an awesome chicken schnitzel platter, so this week I went for a bratwurst ($5) with a side order of fries ($3).
The brat was fried, then sliced horizontally and put on a ciabatta roll with only mustard (my request).  I'm not sure where they get their brats from, but this one was tasty, if not as fat as what I'm used to.
The mustard was a dijon-type, with a nice bite to it.  Germans and Austrians love their mustard, so you can't have wimpy mustard on a wurst.  The bread is important, too and the ciabatta roll was up to the task.
The fries were also done right.  In the past, Schnitzel & Things had disc-shaped fries that weren't so great.  I'm not sure when they switched to the normal-shaped fries, but these were much better – crisp on the outside, soft inside and the right amount of salt (meaning you could taste it, but it wasn't too salty).
I would have liked the brat to be a little fatter, but that's a small quibble.  Overall, lunch was excellent.  If the bratwurst is getting some play, maybe they can add another wurst to the menu, perhaps a knockwurst, weisswurst, bauernwurst or even kielbasa.  It may not feel like it today, but summer's on it's way, and nothing says summer like wurst and beer.
That reminds me – Hey Oleg, when are you getting your beer license?