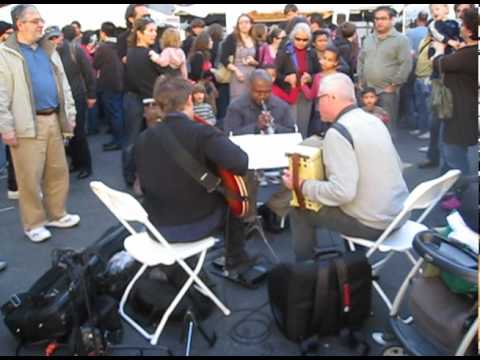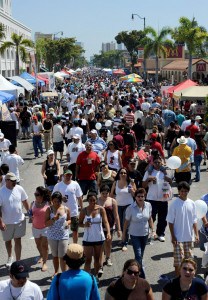 It's the biggest Latin street party in the world, and a street food paradise.  Hundreds of food vendors lined the streets with pinchos, arepas, chorizos and countless other Latin foods.  Cuban, Puerto Rican, Mexican, Dominican, Haitian, Colombian, Brazilian, Peruvian, Argentinean, Uruguayan—literally every possible Latin cuisine is represented. This year, it was on March 14th.
The following was reported by Daniel Combs of The Miscellany News: "When in doubt, follow your nose.  If it smells good, it probably tastes good, and the beautiful thing about Calle Ocho is that everything smells good.
I started with an arepa: the two thick discs of cornmeal were delicately caramelized and far sweeter than I had imagined, and the overflowing pillow of white cheese squashed between them provided the perfect twanging elasticity to match their whispering, soft, crunchy crumble.
I found a Panamanian woman slinging ceviche, easily one of the most refreshing Latin dishes and one of my favorite ways to eat fish. The diced raw white sea bass felt almost effervescent thanks to the combined tanginess of the sour lime juice, chopped onion and grainy sea salt. The bowl could have used a sprinkling of tortilla chips to add some traditional crunchy texture, but the freshness of the fish and the rejuvenating qualities of a cold dish on such a hot day more than made up for this minor lack.
Other delicious treats I enjoyed included a series of amazing tacos with hand pressed blue corn tortillas, filled with any meat you could think (beef tongue for yours truly). As with all street food, the real gems are often hidden, and at a tiny Mexican cart, I bought by far the largest tamale I've ever seen. The husk was loaded with big, juicy hunks of pork that still contained the bone marrow, which resulted in a gregarious display of bone sucking and finger licking. Everywhere I looked I saw people slinging deep-fried, sugary goodness in the form of churros, so I figured that this was a necessary dessert.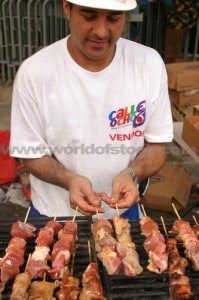 I forced myself to taste a bit of steak from an Argentinean wood-burning grill that completely floored me with its complexity. The steak wasn't bad, but it paled in comparison to the freakishly refreshing piña colada that was carved out of a pineapple and cost a mere $5.
Calle Ocho wasn't officially over until sundown, but since I had to navigate back seven blocks with a friend on crutches and a digestive system threatening to work in reverse, I decided to call it quits. I feel like I only scratched the surface of an incredibly deep food celebration and cannot wait to visit again.  If you are ever in Miami in March, make it a point to at least stop by and taste a bit." [The Miscellany News]
Check out the video below for a better taste of the party atmosphere.