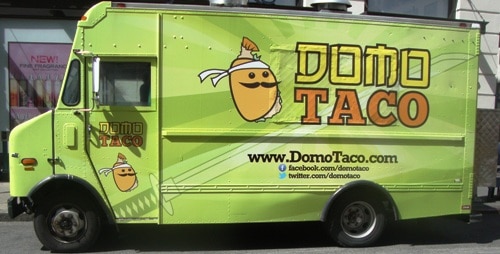 Maybe it's just us, but we haven't seen Domo Taco around for a while. Checking their twitter feed, it looks like they have been on the street, but in different locations than where we've been.
Over the past 2 years, we've had a lot of lunches at Domo Taco, but don't think we've ever tried their burrito. The tempura battered shrimp burrito for $8 was our choice.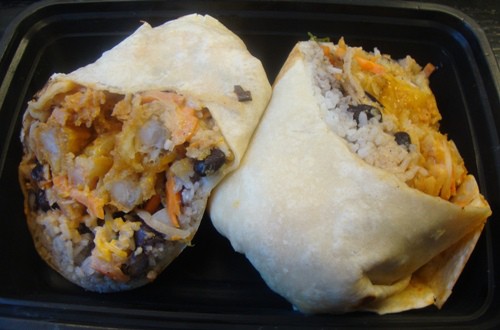 According to the menu, the large flour tortilla included refried beans, rice, cheddar & Monterey jack cheese, salsa roja, salsa verde, soy miso slaw and sesame crema.
We could quibble about a few of these things mentioned above, but it just seems silly when facing down a tasty, substantial Shrimp Burrito like this.
What stood out for us was the soy miso slaw, sesame crema, and the shrimp.
Yes, the rice and beans were fine, and the tortilla was lightly grilled after being stuffed, giving it some crispiness.
But tempura battered shrimp Burrito was the reason we got this, and was the best part of it. Stuck inside a burrito, it's nearly impossible to maintain the crispiness of tempura batter, but the tempura shrimp flavor was there.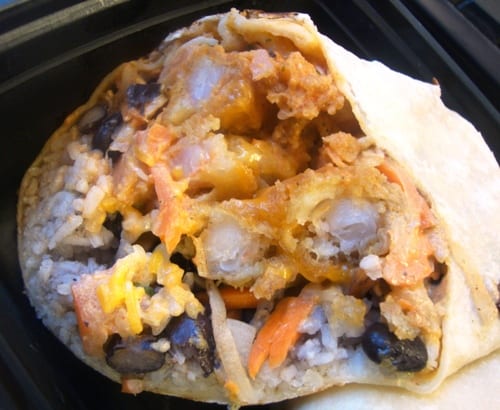 The burrito did unravel a bit towards the end, so it was a good thing they included a fork with lunch.
The spiciness of the sauces rose a few notches as we got towards the last few bites, but nothing too severe, and it did not overpower the rest of the burrito.
You can find Domo Tacos on twitter twitter here or on our Mobile Munchies twitter feed. Their facebook is here.
Even though they serve Asian tacos, quesadillas and burritoes, Domo Taco is just different enough to stand out from the pack. Try their nacho tots to see what we're talking about.