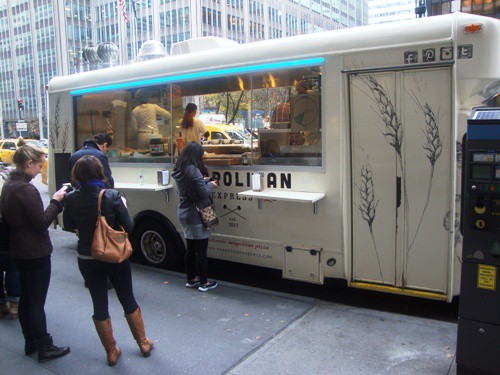 Back in early spring, Neapolitan Express hit the NYC streets to significant fanfare. Due to the food truck being powered by compressed gas, Mayor Bloomberg and other luminaries held a press conference touting the "green" bonafides of the truck.
Of course, that wouldn't matter much if the pizza sucked, but Neapolitan Express went on to become a Vendy Award Finalist in the Rookie of the Year category.
We checked out most of their offerings early on, but Neapolitan Express recently came out with a few new menu items. Top of the list (for us) was the "a diavolo" pizza.
Students of Latin (or any of the romance languages) will recognize "a diavolo" as "of the devil", or in this case The Devil's Pizza – Bwaaahaaahaah!
In culinary terms, this usually refers to a spicy tomato sauce, but maybe in his case they were referencing the price. This pizza cost $13.07 after tax!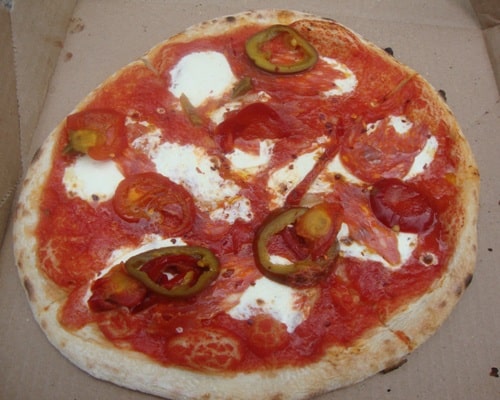 Service was quick and efficient, but they did one thing different from your corner pizzeria. Instead of cooking the pizza with toppings, they added the peppers and sopressata after the pizza was taken out of the oven. They also added some hot pepper flakes before closing the (recyclable) box.
Taking a few bites, the a diavolo pizza was dominated by the acidity of the hot cherry peppers. The heat came through too, but the vinegar in the peppers was the strongest flavor in just about every bite. It relented a little as we got towards the crust.
The sopressata by itself was tasty, with a little fennel flavoring, and some spiciness of its own, but the meat got buried by the peppers when eaten with the rest of the pizza.
The mozzarella cheese fared a little better, and the tomato sauce was an integral piece of the pie.
As we got to the crust, the dough acted as a palate cleanser – a crusty, slightly chewy, palate cleanser – just how pizza crust should be.
In retrospect, The Devil's Pizza was not our favorite pie at Neapolitan Express, with the hot cherry peppers overwhelming most of the other ingredients.
You can find the Neapolitan Express truck on twitter here or on our Mobile Munchies twitter feed.
The new menu of Neapolitan Express has a few other pizzas such as Verde and di Parma, but prices are not listed anywhere. That needs to be corrected.