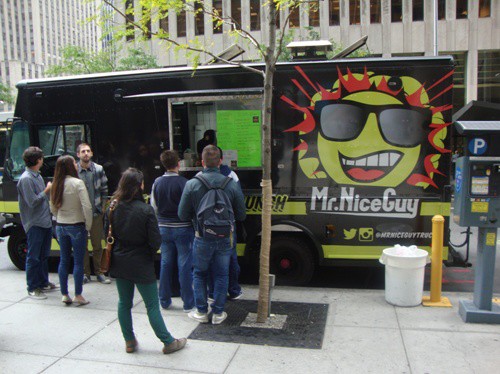 One of the newer food trucks to venture into midtown is Mr. Nice Guy. They have been in business about 6 months, but started out serving in Upper Manhattan & The Bronx. In the past couple of weeks, they started coming into midtown for lunch, and we first caught up with them about 2 weeks ago.
The menu at Mr. Nice Guy is on the small side, with 5 or 6 different types of sliders, regular and yucca fries, and chicken wings. Sliders are $3 each, but we got the Slider Box, which includes your choice of 3 sliders and fries for $10 (Isaiah tells us it's now $12).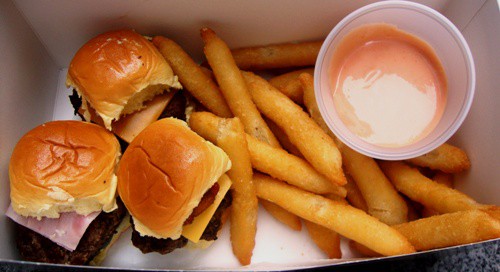 The idea was to get as much variety as possible, so we ordered bacon & cheese, Cuban, and Wild Turkey sliders. The yucca fries sounded interesting too.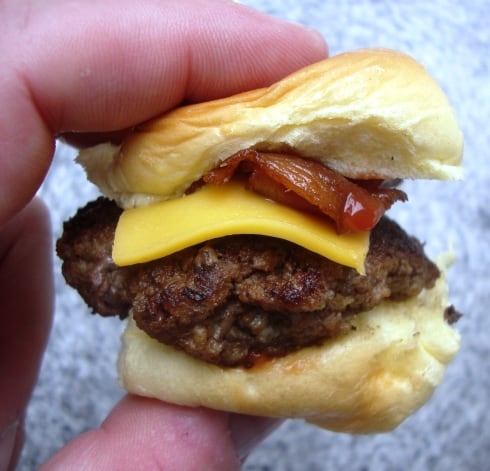 We started with bacon & cheese, the most traditional slider of the bunch.
The beef patty was nice and charred on the outside, but the center was not dry or overcooked.  A little ketchup, bacon and American cheese, and we had the makings of a fine slider.
It took us about 3 good bites to eat, and our only complaint is we would have liked more bacon…but isn't that always the case!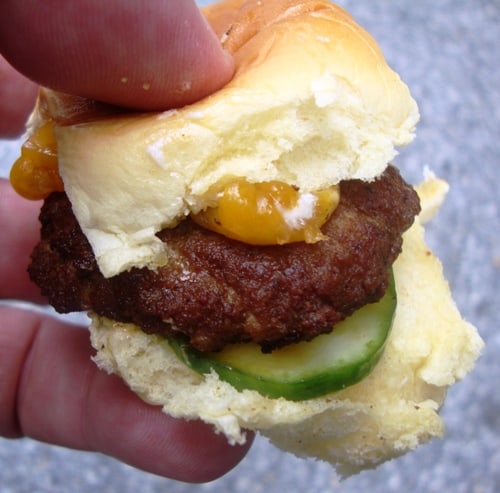 The wild turkey slider was also crispy on the the outside, but didn't fare as well inside. It was drier than the beef patty we just had. A tad less time on the grill next time for these babies.
We did like the fixings on the wild turkey slider, which were cheddar cheese, a slice of cucumber, and horseradish sauce. Horseradish sauce is always welcome, and cheddar cheese stands up better than American cheese to the sharpness of horseradish sauce.
The Cuban is not a true, which is made with roast pork, but they acknowledge that by calling it a Carne Cuban Slider.
There were the usual Cuban accompaniments of ham, Swiss cheese, and pickle to go along with the beef patty, but no mustard.
The Carne Cuban was decent, with all the ingredients playing a role in the taste, but a little mustard would have been nice.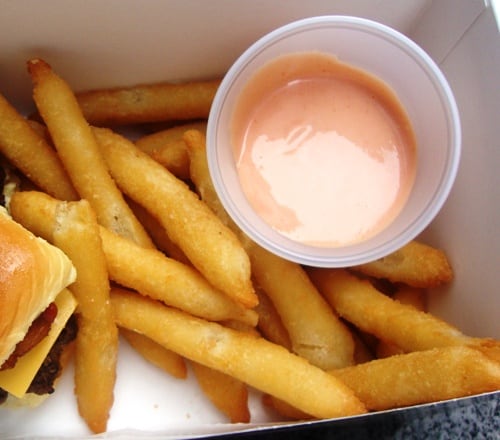 We were not that familiar with yucca fries. The only other NYC food truck we know of with yucca is Big D's Grub Truck, and we had their fried yucca 2½ years ago.
These were quite different, but interesting. The yucca fries had a similar consistency to regular fries, but the filling was starchier and more similar to yams. This made them heavier to eat than regular fries.
The yucca fries came out of the truck piping hot, and Mr. Nice Guy's "special sauce" was served on the side. Think ketchup and mayo mixed together, with a little paprika or non-spicy chili powder. The special sauce was a good dipping sauce for yucca fries.
Even though each slider is small, the cumulative effect of 3 sliders and yucca fries is a very filling lunch. No worries about being hungry before dinner.
You can find Mr. Nice Guy on twitter here, and their website is here.
We're glad they decided to come down to midtown to serve lunch. Mr. Nice Guy is a welcome addition to the NY Street Food scene.