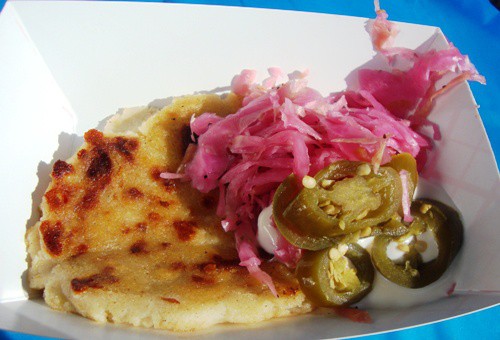 You can't seriously be into street food in NYC and not have visited the Red Hook Food Vendors in Brooklyn. They have been in business for 40 years (!) and produced the Vendy Cup Winner in 4 of the past 5 years (!!)
This weekend is the last weekend of 2013 to enjoy these great food vendors including past Vendy Cup Winners Country Boys Tacos (2009), Piaztlan Bk (2011), Solber Pupusas (2012) and El Olomega (2013).
But don't limit yourself to just these 4 vendors. Explore as many vendors as you can, because it may be the last weekend ever for the Red Hook Food Vendors.
According to Gothamist, the Red Hook Food Vendors signed a 6 year lease with NYC back in 2007, which ends this year.
It has become increasingly difficult for the Red Hook Food Vendors to keep up with increasing rents and improvements required by the city.
There are also a ton of artisanal food markets now such as Smorgasburg, Brooklyn Flea, New Amsterdam Market, Madison Square Eats and others.
Red Hook Food Vendors are hoping they can come to a satisfactory arrangement with the city, and continue being an important part of NYC's culinary tradition.