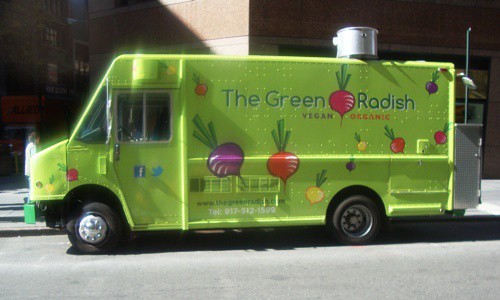 We are currently in London, and were very busy at work Friday before heading out of town for a week. It was a nice surprise to see the Green Radish Truck on Broadway & 56th St, right around the corner from our office. Not having to head to Rockefeller Center or 47th St saves us at least 1/2 hour for lunch.
The Green Radish is a vegan food truck that we had only been to once before. The chickpea burger and chocolate chunk cookie was an enjoyable lunch. What to have this time?
After perusing the menu, we decided to try the Portobello Mushroom Burger for $10. As a last minute impulse buy, we also got a pumpkin cranberry cookie for $3.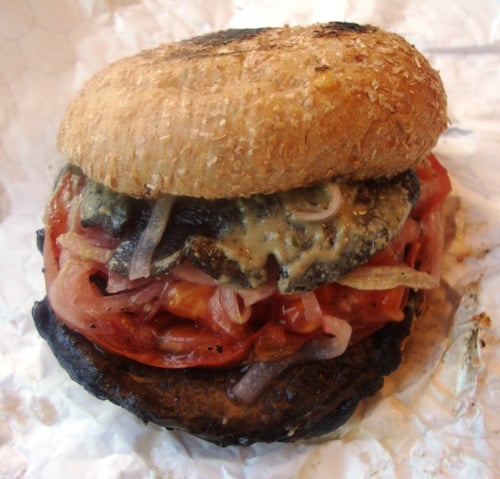 The Portobello Mushroom Burger comes with pickled red onions, tomato, a rosemary balsamic marinade and walnut pesto.
Instead of one thick portobello mushroom patty, they cut the shroom in half horizontally, and put the onions and tomato in the middle.
Each of the components was readily discernible, and they all added something to the overall taste.
The pickled onions, tomato, rosemary, and walnut pesto were all tasted, in addition to the umami flavor of the portobello mushroom.
(To go off on a tangent for a second, we stopped by the new Umami Burger in the Village last week to bring home dinner, and walked away pissed off. They would not let us take out for 5 people. They have a strict 2 mushroom burger take out per order limit, and wouldn't let 2 of us order takeout for 5 people. That's only 1 burger extra, and they wouldn't budge from this arbitrary limit. We happily spent our money elsewhere.)
Anyway, we're happy to say the portobello mushroom burger was quite tasty, even if $10 is on the high side.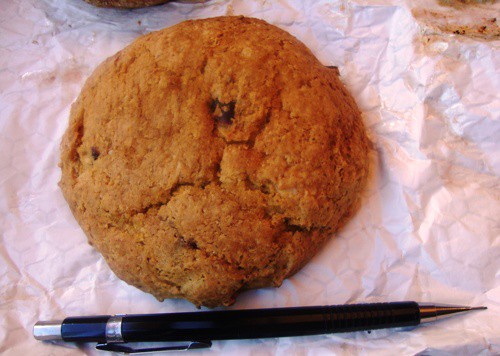 The pumpkin cranberry cookie had the usual clove, cinnamon and allspice that are de riguer with anything pumpkin. They did not skimp on the spices, there were enough cranberries, and this was one of the better pumpkin desserts we've had this season.
The Green Radish Truck can be found on twitter here or on our Mobile Munchies twitter feed. You can check out their website here.
What should we try next from the Green Radish?