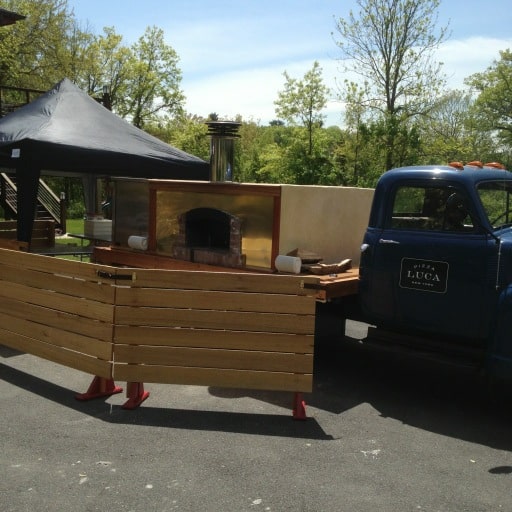 Sean from Feed Your Hole tipped us off to a new type of pizza truck that a buddy of his is coming out with.  It's called Pizza Luca, and is actually a brick-oven on top of a 1952 Chevy flatbed truck.
Click through to find out where they will be making their debut this weekend, and see what the pies look like. (Hint: Amazing!)
Pizza Luca will be hitting street fairs and other events during  the upcoming months.  This Saturday they will be at the street festival that runs along Broadway from Fulton St to Battery Place, near the Wall St bull.
They will have 3 different types of pies, and the ingredients are from the Campania region of Italy, the birthplace of pizza.
Sean will be helping out at the event too, so stop by and say hello.
I do recall seeing something like this in Canada a couple of years ago, although not with a 1952 Chevy truck attached.
You can follow Pizza Luca on twitter here.
Take a look at this pizza!  Pretty nice, eh?