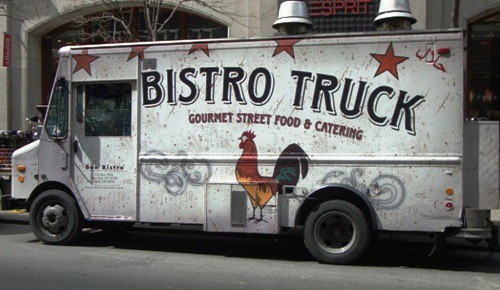 One of the higher quality food trucks around the NYC area is Bistro Truck.  They use top-notch ingredients and put care into every aspect of the meal, even the salad.
Bistro Truck was off the road over the winter, and when they came back, permit problems kept them off the road for a month longer than anticipated. Now that everything's straightened out, make sure to stop by for one of the best street food lunches in NYC.
As you know, we are long-time fans of Bistro Truck and have tried most of their menu, but roasted lamb shoulder for $10 was a new menu item. The platters at Bistro Truck come with a salad and choice of rice or couscous.
As I opened the container, the smell of roast lamb was wonderful.  Then I took a bite, and it was remarkably tender.  Lamb has a little more meatiness to it than pork or even beef, but if you enjoy roast meat, this dish is for you.  It was a little bit salty, but there was very little fat on the lamb, which isn't always the case with lamb.
Underneath the lamb was a light and fluffy couscous.  Everyone and their brother seems to serve rice, so it was nice to get couscous for a change of pace.  The forkfuls of couscous that had juices from the meat were even better.
As I said, even the salad was good.  Several types of lettuce, fresh tomatoes and a balsamic vinaigrette dressing elevated the salad above most other street food side salads.
Bistro Truck were Vendy Award nominees in 2010, and they are very close to opening a restaurant on the Lower East Side called Rustic.  They told us it should be open within the next two weeks.
Bistro Truck hits midtown, the Financial District, Flatiron and more for lunch.  You can find them on twitter here or on our Mobile Munchies twitter feed.  They are worth tracking down.
We've also enjoyed their chicken pastilla, which is a layered dish, their merguez sausage and their lamb hamburger, which is juicier and has more flavor than most beef burgers.  Enjoy!