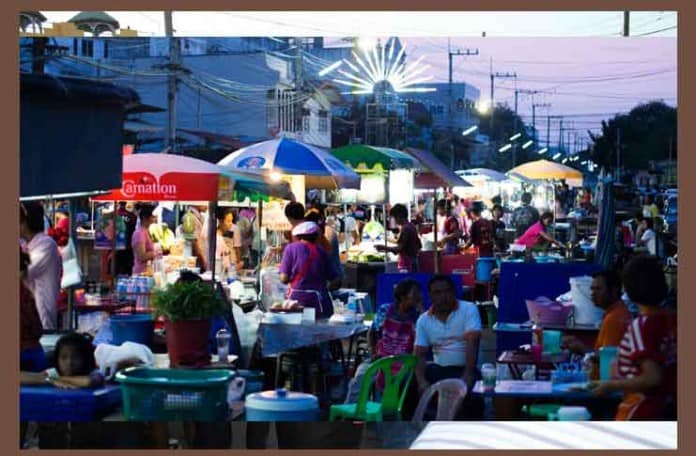 One of the first trucks I read about in L.A. that really grabbed my attention was the Buttermilk Truck.  I remember saying back at the end of 2009 that we need a breakfast truck like this in New York.  Last night I finally had a chance to try them.
The Hawaiian breakfast sliders looked interesting, as did the sausage biscuit sandwiches – but what I really wanted to try was the fried chicken & waffles ($7).  You can check out their full menu here.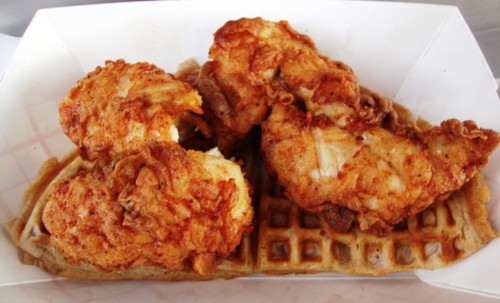 Wow, did this look and smell great!
There were a couple of big, thick pieces of breaded white meat chicken on top of the waffles.  I poured on some syrup and took a bite.
The chicken was  fresh out of the deep fryer and piping hot.  The first few bites were moist and steaming – and utterly fantastic!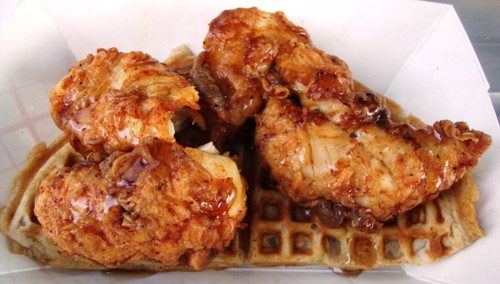 The breading seemed to have a little cayenne that kicked it up, and the maple syrup was an interesting juxtaposition.
I know chicken and waffles is popular in L.A., but it hasn't gotten too popular in New York, and I'm a relative newbie in this department – but definitely a recent convert if chicken & waffles are this good.
The waffles themselves were a bit on the thin side, but had a cinnamon flavor that was great with the chicken and maple syrup.  This was an excellent dish, but I kept thinking how it would have been unstoppable on a waffle from Wafels & Dinges.
Even with the waffle being too soft and thin, the chicken was so good, this was probably my 2nd favorite meal of the week.  My favorite meal this week was the ramen from Rokyo, but the chicken and waffles from Buttermilk Truck was way up there too.