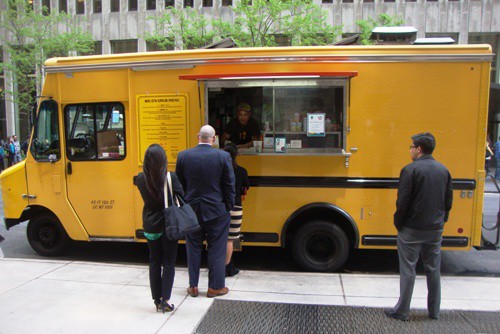 We haven't been to Big D's Grub Truck in about 6 months, and last week, Dennis (Big D) sought out new horizons by coming up to Broadway between 55th & 56th St. Welcome to the neighborhood!
The menu is still basically the same, but we don't recall ever having a spicy chicken rice platter, which cost $10. That's what we got.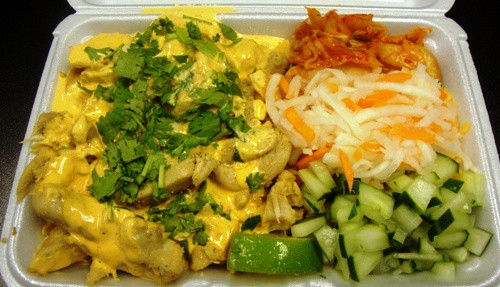 In the spicy chicken rice platter, boneless chicken is topped with spicy mayo and parsley, and served over yellow rice.
There was plenty of chicken, but the spicy mayo didn't really do much for us. It wasn't particularly spicy, and even though the menu says it's Big D's favorite dish, it wasn't ours.
Personally, we preferred both the spicy pork and the beef bulgogi from Big D's Grub Truck.
There were 3 salads on the side, which were tasty: cucumbers, pickled daikon & carrots, and kimchi.
Between the spiciness and the acidity, the kimchi had a nice kick, The other salads were meant as refreshers, which they did well.
You can find Big D's Grub Truck on twitter here or on our Mobile Munchies twitter feed.
In addition to the spicy pork and beef bulgogi, we like Big D's side dishes too. You can't go wrong with his dumplings and yucca fries.