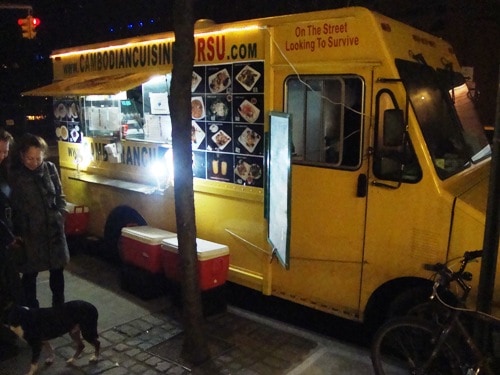 When I was at the new Cambodian Cuisine Torsu truck last week, someone else on line got #5, Num Pain Saach, a Cambodian version of banh mi.  It looked really big and delicious, and luckily I was able to get back there over the weekend to try one.
It was Saturday night, but the truck tweeted they were at their usual weekday location, West 4th St & LaGuardia Place, on the south side of Washington Square Park.  That's an easy stroll from my apartment, and it was a beautiful night, so I headed over.  They are usually there from 6-11pm, but check their twitter account here to make sure.
I ordered a #5 sandwich ($5.95), and about 5 minutes later was handed a giant hero.  You can see from the picture below that it's a little bigger than a dinner plate.  Now that's a sandwich!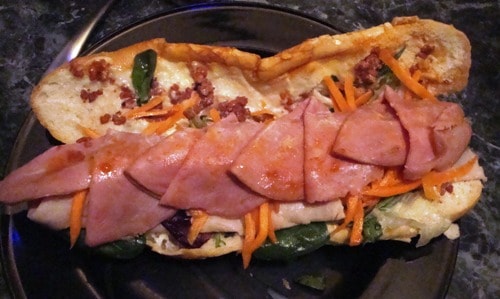 There were about 8 slices of ham, a similar amount of turkey under the ham, pickled carrots, lettuce, cucumbers, ground pork, hot sauce, and a mayo-like spread.
The ground pork was a little spicy and was a nice addition to the sandwich.  The pickled carrots and cucumbers gave the sandwich some crunch and texture, and were quite refreshing.
Of course, there was plenty of meat on the sandwich, with all that ham and turkey.
The spread tasted like a combination of mayo and fish sauce.  It was a little disconcerting at first, but ultimately went very well in the sandwich.
As I said last week, I'm really glad to have Cambodian Cuisine Torsu in my neighborhood.  Being able to get such a good dinner for only $6 is awesome.
My wife got a noodle dish with peanut sauce (#11) that was really good too.  I will write that dish up in the next week or so, too.