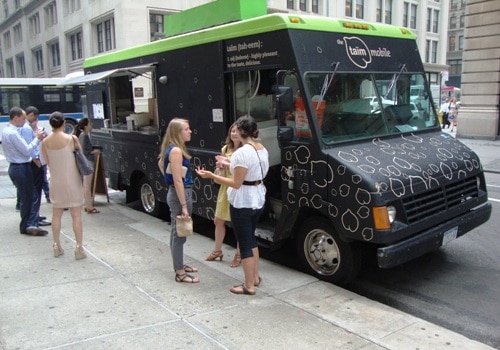 Earlier this year, Taim Mobile said they were going to be bringing out some new flavors of falafel. The regular, harissa, roasted red pepper and green olive falafel needed some company.
A few months ago, we stopped by for the first new spoecial, sun-dried tomato pesto falafel, but yesterday's special sounded even better – red beet falafel. We got a sandwich, sans Israeli salad (lettuce & tomato), for $7.
It was grossly hot and humid, and people were getting smoothies left and right. Nothing like the power of suggestion on a very uncomfortable day. This called for a pear, mint and lemon smoothie, which cost $5.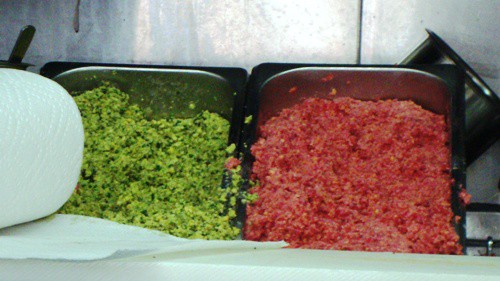 It was too disgusting to eat outside, plus it was raining on and off. Back to the office with lunch.
As usual, the soft pita was packed with falafel, pickled cabbage, hummus and tahini.
The first few bites were mostly hummus, tahini and pita bread. Getting down to the red beet falafel, the first few bites were overpowered by the sauces.
Once we got down into the sandwich a bit, we could get a piece of just the falafel.
If you take a bite of just the falafel, you can taste the beets, but in a bite with hummus, tahini and pickled cabbage, it's tough to detect.
That's not to complain – we especially love Taim's hummus, and it was a delicious sandwich. Just don't expect the red beet flavor to come shining through. If that's you're goal, get the platter instead of a sandwich.
As mentioned above, the smoothie was pear, mint and lemon. We don't order smoothies too often, and expected it to be thicker.
The smoothie was very tasty, but it was more of a mix between a shake and juice. We thought it would skew more towards shake territory after looking at it, as the photo below looks like a frosty shake.
That said, the flavor of pear with a mint edge and a touch of lemon was excellent.
You can find Taïm Mobile on twitter here or on our Mobile Munchies twitter feed.
Now we're curious as to what their next special falafel flavor will be.