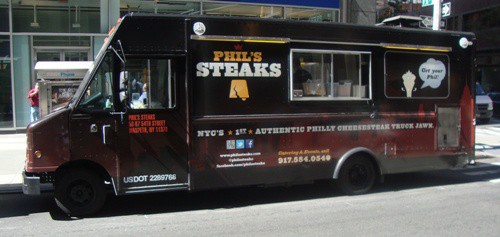 We always love a Pizza Steak Sandwich. After seeing Phil's Steaks win the 2012 Vendy Award for Rookie of the Year, we've been meaning to stop by the truck to congratulate them. Yesterday we had that opportunity, and it also gave us a chance to see if there was anything new on the menu.
Yes, there were a few new menu items, including a pizza steak and a vegetarian option! How do you place that order? One cheese steak, hold the steak.
Actually, the vegetarian option is sauteed mushrooms, fried onions, hot & sweet peppers and your choice of cheese. That doesn't sound half bad, although we can't imagine any vegetarian ordering cheez wiz. We bet they go with the provolone.
We weren't that hungry, so we ordered a 6″ Pizza Steak Sandwich for $7.50 instead of our usual 10″ sandwich, which would have been $10.50 for the pizza steak.
For a small sandwich, this was pretty darn big. Two slices of provolone cheese were put on a 6″ roll, which was loaded with thinly-sliced steak, then topped with marinara sauce.
After getting our lunch, it turned out the plaza where we often eat was now closed for building renovations. It took a few minutes to find a new place to eat outdoors, and in that time, the split in the roll got a little soggy.
When we took our first bite, some steak and tomato sauce fell out into the platter. Luckily, there was a platter. Otherwise, it could have been a disaster.
It was only the first bite that had a soggy bread underpinning, so we scooped up the fallen meat with the second bite of the sandwich. Yum! A double bite.
The steak was meaty and juicy, and there was a lot of it. The marinara sauce was good, with a few chunks of tomatoes hanging around.
We're not Italian, but we did grow up in New York, around a lot of good Italian food. In our opinion, Phil's marinara sauce passes muster, although it could have been a few more herbs in it.
The provolone under the steak went well with the steak and marinara sauce. It had a little edge, but we do like our provolone a little stronger. Some grated parmesan on top would have made up the difference.
Nevertheless, this was an enjoyable lunch. It was more filling than we expected the 6″ sandwich to be, and they may have even converted us into being a fan of pizza steak sandwiches.
Phil's Steaks makes the rounds of various neighborhoods, so find them on Twitter here or on our Mobile Munchies Twitter feed.
Their lines are a little longer since winning the Rookie of the Year Vendy Award, but it was still only about 15 minutes from the end of the line to getting our food.
Hey, most good things in life require a commitment.