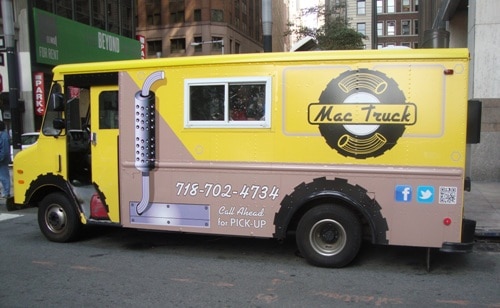 Feel like Mac And Cheese With Egg? How about a beer sauce on top? Well, a few weeks ago, we gave you a First Look at the Mac Truck, who serves one of the ultimate comfort foods – macaroni & cheese.
That day, we were seduced by the Daily Special, a pulled pork mac & cheese, which was delicious. But we wanted to go back and try a more typical mac & cheese dish.
As is the case with many food trucks these days, the menu is customizable for each customer. A basic mac & cheese is $6, and you pick and choose the toppings you want at no extra charge. The only topping that costs extra is a poached egg, for $1 more.
That sounds great! Mac And Cheese With Egg bowl. (Over)Indulgence City, here we come!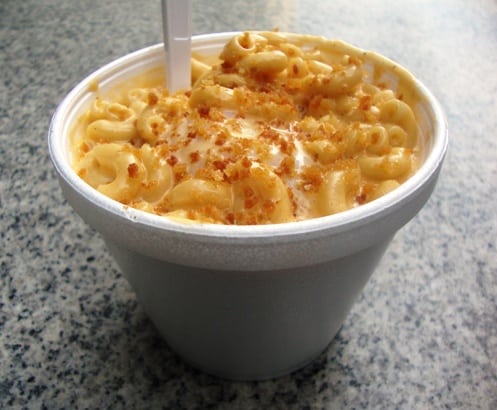 Because a poached egg just wasn't enough, to finish off the dish, we got toasted bread crumbs and extra cheese sauce (yeah!). If you're gonna go for it, then go for it! Don't go halfway.
Digging into the Mac And Cheese With Egg bowl, we broke open the poached egg and let it run into the mac & cheese. Whoever came up with the idea of a poached egg  on mac & cheese is brilliant! They should get a MacArthur Genius Grant for that one.
Going in a little deeper, it became apparent this wasn't your mother's mac & cheese. Sure it was creamy, but there was a deeper, earthier, tangy flavor infusing the sauce.
During our First Look, we uncovered the source of the deeper, earthier flavor – beer! They told us the sauce was made with a mix of American cheese, cheddar cheese and cream cheese, but instead of using cream or bechamel sauce as a base, they use beer.
As for the macaroni, it was a little on the al dente side, which is fine with us. We hate mushy, overcooked mac & cheese. Not a problem here.
The Mac Truck has been rotating among various neighborhoods in midtown and downtown, so find them on Twitter here or on our Mobile Munchies twitter feed.
In addition to the customizable menu, there is also a daily special, which was pulled pork both times we went. Time to mix it up a little guys.
They also have fried mac & cheese bites if you like your mac & cheese breaded & fried. Wonder if we can get fried mac & cheese bites with extra sauce?