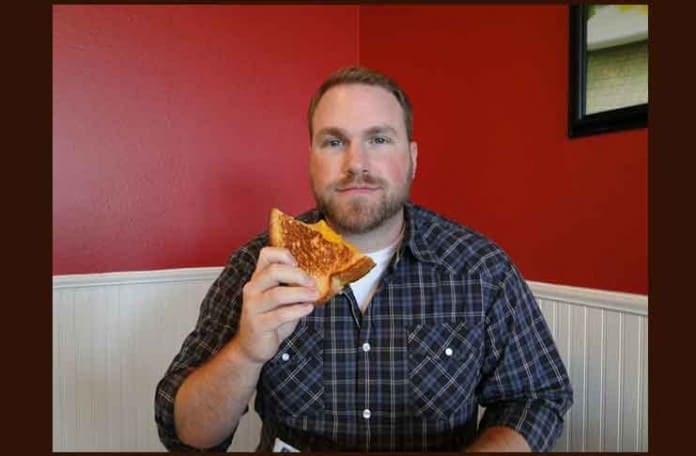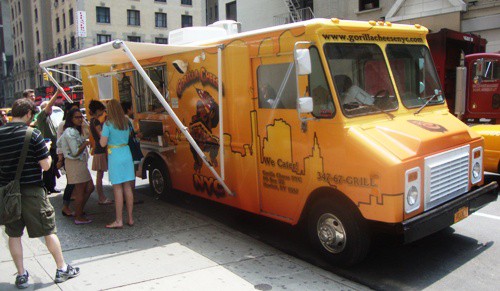 We had a NYSF First Look at Gorilla Cheese NYC last week, and while the food was good, the service was slow.  They had only been out a few days and were still working out the kinks, and we had every intention of going back for a second look.
After all the hullaballoo down at Hudson & King, Gorilla Cheese moved up to 55th St & 7th Ave.   That was definitely a sign to go for our 2nd look – it's only 2 blocks from the office.
I was all set to go with specialty sandwich #6 (prosciutto, asiago cheese and aioli sauce for $8.50) until I got up to the server and saw another special written on the window.  This one was brie, strawberry preserves and prosciutto, also $8.50.  Click here for the full menu.
We sometimes serve baked brie with raspberry preserves for family holiday gatherings, and not only does everyone else love it, but I love it too. Warm brie and jam on a cracker – yum!  This sounded pretty similar.
I also wanted to try some side dishes this time, so I broke the bank and got 2 side dishes, mac & cheese ($3) and tater tots ($3.75).  Sounds like a lot of food, but I'm a big guy.
This time there was a line of about 6 people in front of me and another 5 waiting for their orders – but damned if I didn't order and have my food within 10 minutes of getting on line.  I'm not sure exactly what they did to streamline the operation, but it worked.
When I got back to the office, opened the wrapper and pulled apart the two halves, I was greeted by the picture above.  Gooey cheese, prosciutto and strawberry preserves inside perfectly grilled bread.
I usually prefer raspberry to strawberry, but adding prosciutto to the mix really made up for the difference.  This was a superb sandwich!  It looked a little thin at first, but once I started eating it, the sandwich was rich and delicious.  Melted brie and jam is an amazing combination, and adding prosciutto and putting it between buttery, grilled bread is even better.  Definitely a winner!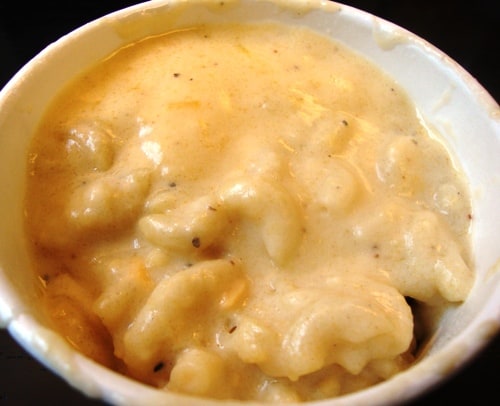 The mac & cheese came in a round container with a lid, which kept in the heat and kept the cheese melted.  The cheese sauce was very tasty. James told me it was made with Danish fontina, imported gruyere and New York sharp cheddar, as well as black pepper and nutmeg, and it all starts with a roux of flour and butter.
While the cheese sauce was excellent, the elbow macaroni was too soft.  It needs to be firmer to serve as a base for such a thick cheese sauce.
Last up were the tater tots, which were nicely salted and tasted good, but there were way too many to go with a sandwich.  Instead of 22 tater tots (yes, I counted) for $3.75, I would prefer maybe half the amount of tater tots for $2.  How much can one person eat for lunch!  I bet they would sell a lot more tater tots that way too.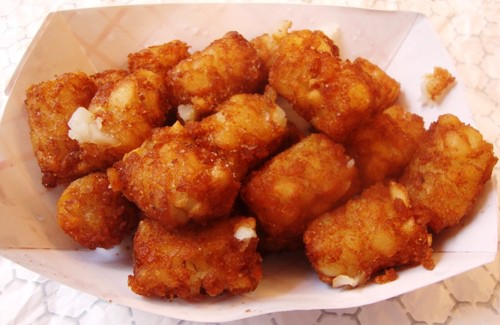 While Gorilla Cheese is still a work in progress, they have made significant strides since I was there last week.  Service was much faster, and I loved the brie, strawberry jam and prosciutto sandwich.  A few little tweaks and they will be a very solid (and delicious)  lunch option.