We first ran across the Jamaican Dutchy cart at the 2009 Vendy Awards, where they were finalists in the main category.  Although they didn't win, we found out they were located only 6 blocks from our office, and started going there on a regular basis.
Last summer the owner, O'Neill Reid, traded in his cart for a brand new food truck.  O'Neill told us the truck was larger and gave him more options in menu items, but unfortunately, it also coincided with the police chasing food trucks away from certain areas.
We lost touch with the Jamaican Dutchy for a while, but last week they tweeted they were now serving $5 wraps.  O'Neill doesn't tweet much, but he told us the truck was parking daily by the SE corner of 43rd St & 3rd Ave.  Time to head crosstown to see an old friend…and check out his new wraps.
In addition to the regular menu, you can get wraps with jerk chicken, curry chicken, stew chicken or roast veggies.  I went for the classic jerk chicken.  They also had a dessert special of black cake for $3.  I've never had it before, so I ordered a slice to check it out.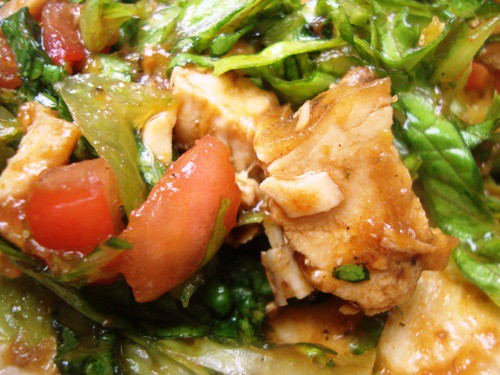 The Jamaican Dutchy always serves big portions, and the wraps are no exception.  They are full-size 10″ tortillas which you can get in white, whole wheat or spinach.  The wrap is stuffed with one of the dishes mentioned above, lettuce and tomato.  When O'Neill handed me the wrap, this was one heavy mother.
On my first bite, it was mostly lettuce and tomato, but by the 2nd bite, not only did I get a big chunk of chicken, but the heat started coming through.  Jerk chicken is supposed to be a spicy dish, and this certainly was.  The more I ate, the spicier it got, but the jerk sauce had a little sweetness to it as well.  Very nice!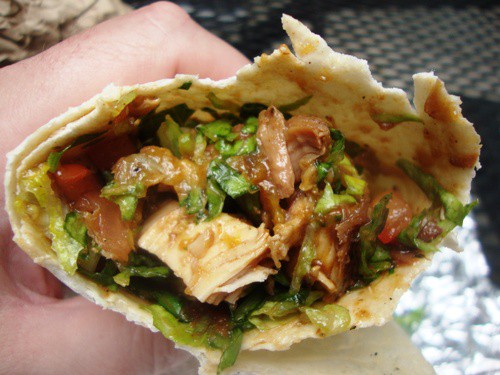 This was a substantial sandwich for $5, and I would have to say it's one of the best deals around.  Try finding a wrap in a deli for $5.  That's tough enough, but add in fresh, delicious jerk chicken and it's no contest.
Even though I didn't really need it, I'm glad I ordered the black cake.  It was a dark brown (not actually black) cake spiced with cinnamon, cloves, allspice and probably a few secret spices I couldn't detect.  It was kind of like a spiced holiday cake, but without the fruit.  Definitely dense and tasty.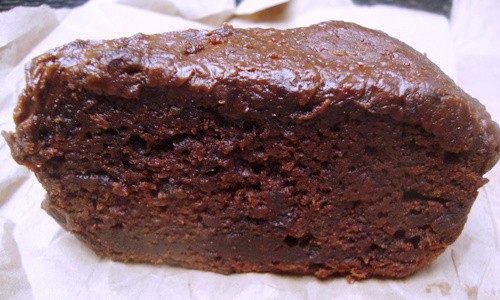 The Jamaican Dutchy's website is here and their twitter is here, but O'Neill doesn't really tweet much.  Just head over to 43rd & 3rd pretty much all day to get some great Jamaican food.  They serve breakfast, lunch and dinner, so you have plenty of options.
If you want the full Jamaican Dutchy experience, his platters are the way to go – a main course with rice and side dishes.  Their small & medium platters for $7 & $9 both have plenty of food for lunch.  Don't even think about the large for $11 unless you're seriously starving or splitting it with someone.  There are Daily Specials too, and you can see the full menu here.
Half a block away, we even found a nice outdoor park to sit in on the side of 425 Lexington Ave.  The entrance is actually on 43rd St between Lex & 3rd Ave, and we even got a table around 1:15 or so.