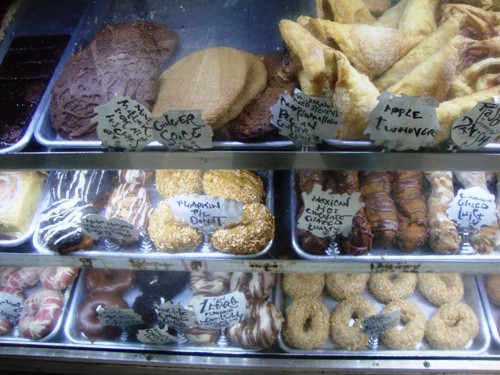 It may not be too nice out today, but summer is in full swing at the Cinnamon Snail.
This week they debuted four new summer inspired donut flavors:
Fresh Peach Glazed
Margarita (Tequila Lime & Coarse Sea Salt)
Pomegranate Roasted Plum Glazed
Brown Sugar Beer Glazed Cake Donuts
If you try one (or two), let us know what you think of the new flavors.
The Cinnamon Snail is also competing for the title of America's #1 Vegan Food Truck in a competition by Mobile Cuisine Magazine.  Last year's award strangely went to a non-vegan truck.
This year, the award should go to a 100% vegan truck.  Please vote below and help our hometown food truck bring home the bacon (oops, better re-phrase that).
http://mobile-cuisine.com/features/vote-now-2012-vegetarianvegan-food-truck-of-the-year/