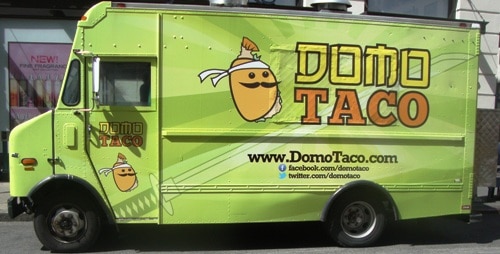 The Domo Taco truck is one of the newer food trucks in NYC.  My first visit there when I got 3 tacos was a hit-and-miss affair.  I decided to go back for a second visit and try one of their bowls.
You can get a bowl for $8, which comes with a bunch of sides and any of the proteins that are available for tacos.  The full menu can be seen here.
I really like fish and don't get it too often, so I chose the fish tempura bowl.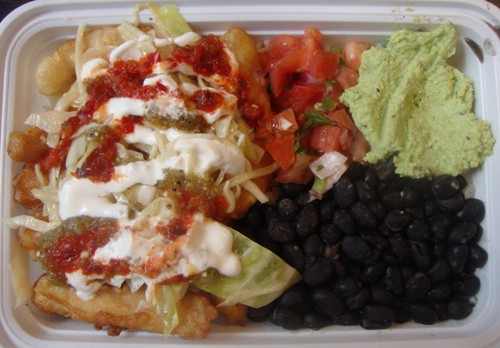 The Korean taco truck field is getting crowded, and I'm happy to tell you this is not another one.  Domo Taco is more of a pan-Asian taco truck, with elements of Japanese, Chinese and Thai cuisine in the tacos, along with Mexican ingredients.
The fish tempura bowl had 6 pieces of fried fish that were each about the size of my long, wide fingers.  Note that  I do have pretty big hands.
The batter was light and the fish inside was nice and moist.  With 6 pieces, there was plenty of meat in the main course.  But what really picked up this lunch were the sauces.
I asked for hot sauce, and it was plenty hot.  There were also a salsa verde and a miso crema.  With all three, there was a nice variety of flavors to go with the fish: spicy, herby and creamy, with a little miso in the crema.
Between the fish and the sauces were a few pieces of what seemed to be cabbage, which added some crunch to the soft fish pieces.
On the side were Asian black beans, pico de gallo and edamame guacamole, all served over white rice.
The beans were warm and soft, but not mushy.  Edamame makes for an interesting guacamole, although I would have liked soem cilantro in it.  I'm not much for tomatoes, so I didn't try the pico de gallo, but it looked fresh.
I'm glad to say my second visit to the Domo Taco truck was better than THE first.  The bowl was a more varied and balanced meal than the tacos – and I didn't have to worry about tortilla breakage.  Maybe they should think about calling the truck Domo Bowls. Nah, it doesn't have quite the same ring to it.
You can find Domo Tacos on twitter here or on our Mobile Munchies twitter feed. Their facebook is here as well.