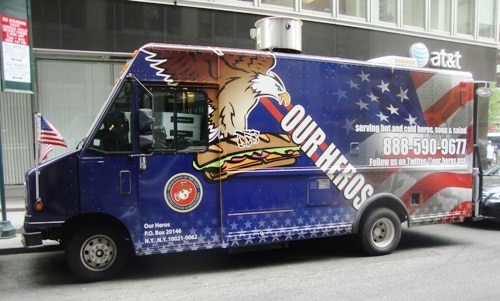 One of the newer trucks on the scene is Our Heros.  We trucked down to the Financial District to try them when they first arrived, but it's tough for us to get down there for lunch.
That's why it was great news when Our Heros told us they would be coming up to midtown for lunch a couple of days a week.  We caught up with them on 51st St just west of Park Ave, and were immediately confronted with a dilemma – what to order for lunch.
Since we got a cold roast beef hero last time, we wanted to try a hot hero this time.  An eggplant parmigiana hero for $8 sounded just about right.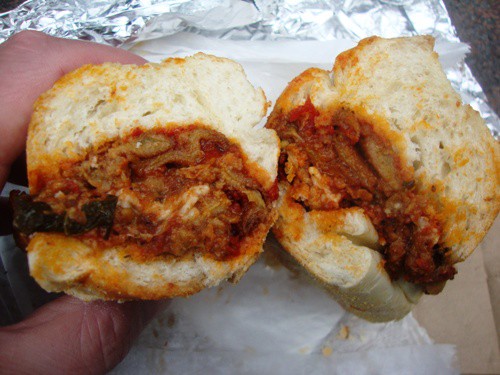 You can't tell from the photo, but the hero bread was close to 10″ long.  It was a pretty substantial sandwich to pick up.
Inside the bread were lightly-breaded, thin slices of eggplant, tomato sauce and mozzarella cheese.
The eggplant was soft and delicious.  You could see a few small pieces of tomato in the sauce, as well as something green, which I think was a basil leaf.
After I finished the first half, I thought "this was a pretty filling sandwich", and when I finished the second half, that thought was fully confirmed.
I'm a recent convert to eggplant.  I used to not like it, but somewhere along the line, my tastes changed.  I haven't had it a lot, but I thoroughly enjoyed this lunch.
The eggplant, tomato sauce and bread were fine, but I would have liked more mozzarella cheese.  The cheese tasted fine, but I like a lot of mozzarella cheese on my parmigiana.
Our Heros has been trying out some new locations in midtown, so the best way to find them is on twitter here or our Mobile Munchies twitter feed.
They are hard to miss, with a giant eagle on the side of the truck.  When you do find them, we haven't had anything but good lunches from there. Enjoy!