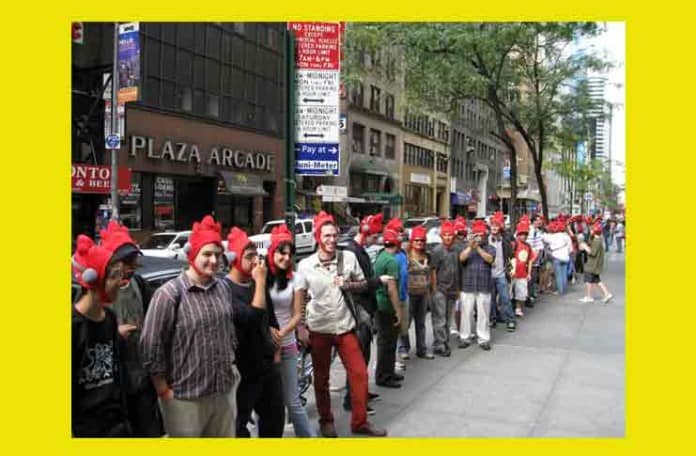 You might have seen the ads on TV for the new series No Kitchen Required, where three chefs are dropped into the wild, and are made to compete against each other  to see who can forage, catch and cook the best meals. Looks kind of like a mix of Bizarre Foods, Walkabout and Top Chef.
Tomorrow (April 3rd) from 12-2pm, you'll be able to enjoy a FREE lunch courtesy of No Kitchen Required, which airs on BBC America starting Tuesday evening.
Eight of the top food trucks in NYC will be included in the promotion, which takes place in two different locations.
Click through for the time, places, and what you need to do to get a food ticket for a FREE lunch.

To get a food ticket you must LIKE No Kitchen Required on Facebook or TWEET #NoKitchenRequired. Show your phone at either Times Square (Broadway and 42nd) or Madison Square Park (5th Avenue & 23rd) for free lunch at one of your favorite food trucks between 12 and 2pm.
Times Square
– Kimchi Taco Truck
– Redhook Lobster 2
– Schnitzel & Things
– Wafels & Dinges
Madison Sq Park
– Frites N Meats
– Mexicue
– Rickshaw
– Taim Mobile
Plus they will be giving away free t-shirts to the first 300 people at each location. First come, first served so make sure you aren't late!
Then make sure to watch the premiere of No Kitchen Required on April 3rd at 10pm. In this new original adventure cooking competition three chefs are dropped into the most exotic and remote places on earth where they must work with the locals to hunt, fish and forage for ingredients to create locally-inspired meals.