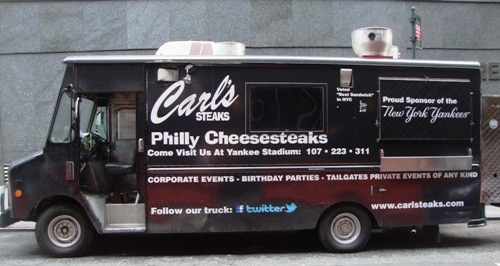 Feel like Chicken Cheesesteak? The Carl's Steaks truck debuted last week, and we enjoyed a Philly cheesesteak from their truck.
Call us crazy, but we wanted to go back and try the chicken cheesesteak, which cost the same as the beef cheesesteak ($9.50).
Of course we got onions, but instead of provolone or wiz, we went for American cheese.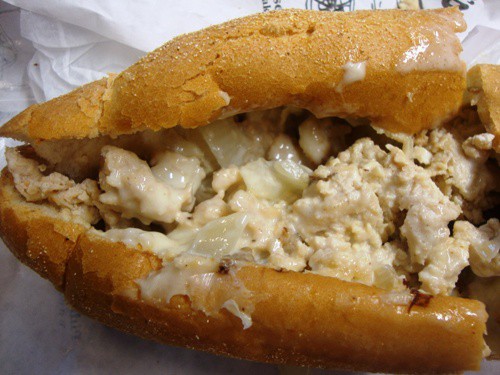 To remind you of the menu, there are beef, chicken and pizza steaks with a number of add-ons available. There are several choices for fries too, including bacon cheese fries.
The sandwiches are served 10″ hero rolls that come from Santos Bakery in Newark. They also have a 6″ option available for $6.50.
The roll was nice and soft, and there were no problems holding everything together. Our shirt was safe for the day. Tomorrow, who knows?
Inside the roll, there was a decent amount of shredded chicken, and plenty of onions and American cheese.
The white American cheese was nice and creamy, and we thought it went well with the chicken.
One thing we never understood about these sandwiches is why they call it a "Chicken Cheesesteak" sandwich when the meat is served shredded, not in steak form. Is there a Philly cheesesteak historian out there who can enlighten us?
The chicken was good, but we would have preferred a chicken cutlet, or even chunks of chicken breast, with onions and melted cheese. Shredded is not our favorite way to eat meat.
We weren't that hungry, so we didn't get fries, but the cheese fries we had on our first visit were curiously addictive. It was tough to stop eating them until they were all gone.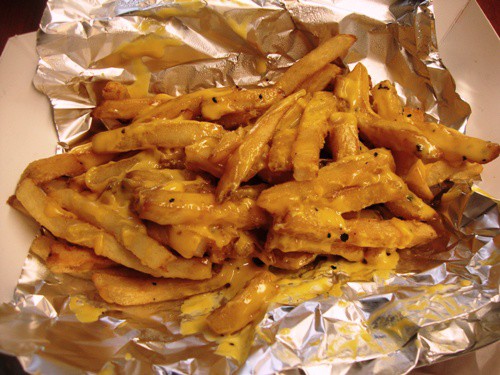 Carl's Chicken Cheesesteaks can be found on twitter here and on our Mobile Munchies twitter feed.