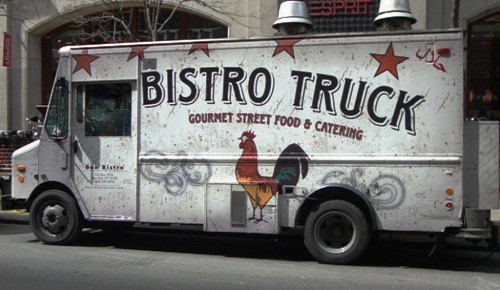 Bistro Truck is one of the stalwarts of the New York street food scene. They have been around for a few years, and were Vendy Award Finalists in 2010.
Bistro Truck is also in the process of opening a restaurant on the Lower East Side called Rustic, so this visit was a good opportunity to see if the quality at the truck has dropped at all.
One thing I like about Bistro Truck is you can get a fancy meal such as chicken tajine or lump crab cakes with couscous, but you can also get a great sandwich.
That's what I did recently, ordering a chicken brochette sandwich for $7.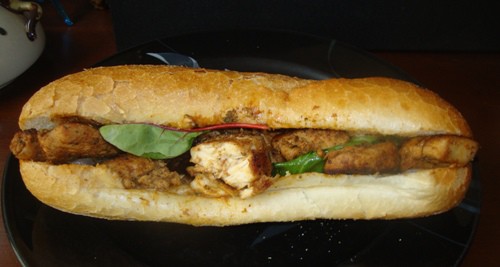 The chicken brochette sandwich was made with organic chicken breast that had been marinated and grilled. It's served on a large baguette with mesclun greens and harissa mayo.
This was a substantial sandwich, with many pieces of tasty, cubed chicken. It was thick and had a mildly sweet taste from the marinade.
The harissa mayo added some creaminess and a little spiciness to the sandwich. Yum!
Bistro Truck makes the rounds of various neighborhoods throughout the week. Check their schedule on twitter here or on our Mobile Munchies twitter feed. They usually tweet a picture of each day's menu as well.