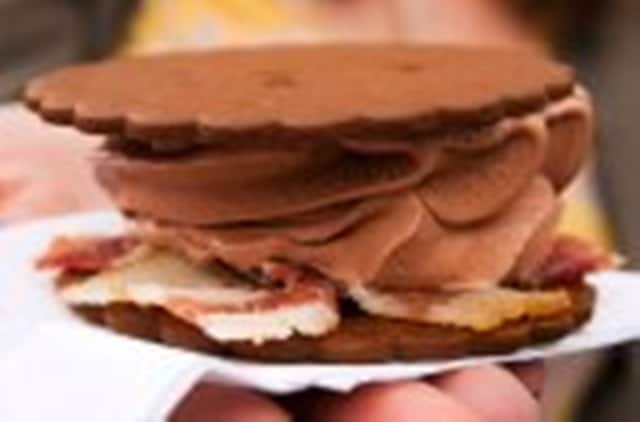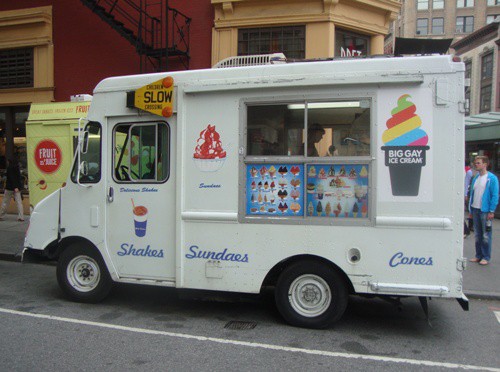 You can't really talk about the best NYC ice cream trucks without mentioning the Big Gay Ice Cream Truck in the conversation.  It was founded in 2009 by Doug Quint and Bryan Petroff.  We first ran across them at the 2009 Vendy Awards, where they were nominated in both the Best Dessert and Rookie of the Year categories, a feat that has never been repeated.
In case you didn't know, there are a few things that set the Big Gay Ice Cream Truck apart from all the Mister Softee and other ice cream trucks out there.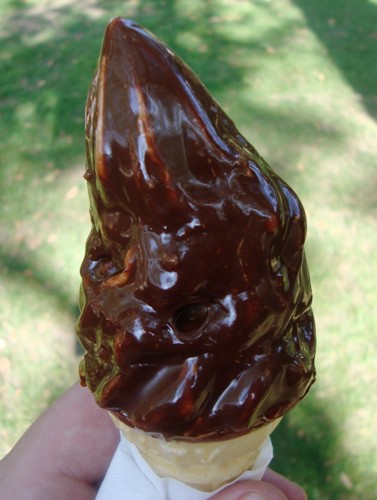 One of the biggest differences is Doug's quick wit and outgoing personality.  I dare you to find another ice cream vendor as fast with a quip as Doug.
These days Doug is often at the Big Gay Ice Cream Shop, which opened last summer in the East Village, but Genevieve Belleveau who now runs the truck, is a worthy colleague.
What initially got the attention of NYC foodies are the creative toppings they come up with, as well as the funny names given to the cones.
One of our favorites is the Salty Pimp – vanilla ice cream with dulce de leche squirted into the ice cream, dipped into a chocolate shell and sprinkled with sea salt before the shell hardens.  The Salty Pimp pictured above was made with chocolate ice cream at our request.
Another delicious cone is the Bea Arthur – vanilla ice cream with dulce de leche that's dipped into crushed 'Nilla wafers.
On our most recent visit, we tried the Godzilla – vanilla ice cream dipped in crushed wasabi peas.  It looked so good, I took a bite before even taking a picture.
It was sweet, crunchy, and just a touch spicy.  We were expecting the wasabi peas to be pulverized into wasabi pea dust, which is how they used to do it.  These wasabi peas were still pretty large, which made the topping very crunchy.  I've never crunched through an ice cream cone before.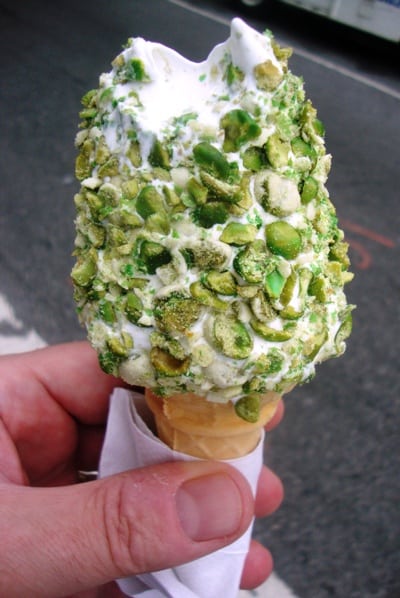 You never know what to expect at the Big Gay Ice Cream Truck.  In the past they have topped cones with elderberry syrup, toasted curried coconut, olive oil, peppermint syrup, crushed pretzels, maple syrup, cardamom and more.  They have also been known to line a cone with nutella.  This ain't your Dad's Mister Softee.
Speaking of which, the final thing that sets the Big Gay Ice Cream Truck apart is they use real cream to make their ice cream.  All those Mister Softee trucks use milk and actually serve ice milk.  The ice cream at BGICT is creamier than Mister Softee's, and you can taste the difference.
The Big Gay Ice Cream Truck usually parks on the NW corner of 17th St and Broadway, but check their twitter here to be sure.  Even if you aren't going to the truck, Doug's twitter stream is one of the funniest around.  We recommend following it just for kicks.
The truck usually gets to the parking spot around 2 or 3 pm and they stay until anywhere from 8-10pm.  If you want more stable hours, stop by the store at 125 East 7th St, between 1st Ave & Ave A.  Details and hours are on their website here.
If you would like to read more about the Big Gay Ice Cream Truck and it's origins, click here for an interview we did with Doug a while back on New York Street Food.